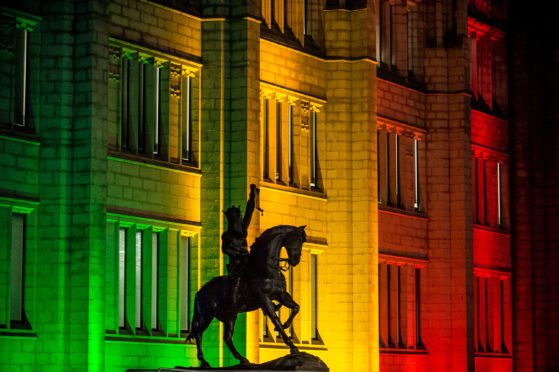 A charter signed by a Scottish warrior king was at the centre of another battle yesterday – this time in Aberdeen's council chamber.
And, instead of fighting with broadswords and bows, political arguments were the weapons of choice.
A motion by Lord Provost Barney Crockett went before yesterday's full council meeting, calling for the city to honour the 700th anniversary of the signing of the Stocket Charter by King Robert the Bruce next year.
The king rewarded the city for sheltering him with the most lasting legacy being the city's Common Good Fund, which is used for a number of charitable causes every year.
Mr Crockett wanted to celebrate the 1319 event by holding a civic dinner for people from all 13 council wards.
But the opposition SNP group called for an event which would be "freely accessible to all", while the Liberal Democrats asked for one which would "deliver direct benefits" to the people of the city.
SNP group leader Stephen Flynn suggested an open air event in Broad Street or Hazlehead Park would be more fitting.
Liberal Democrat group leader Ian Yuill argued civic dinners were a "19th century idea" and called for a rethink.
A vote in the chamber tied at 22 to 22 with the Lord Provost using his casting vote to pass his own motion.
Last night, council chiefs insisted that there would be more events for the 700th anniversary as well as the dinner.