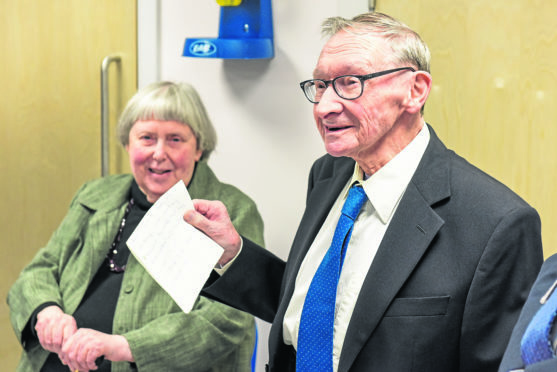 Professor James Hutchison, the Aberdeen academic who invented the world's first full-body MRI scanner, has died aged 77.
The pioneering scientist, known to his friends as Jim, built the 'Mark 1' machine which successfully scanned its first patient – a Fraserburgh man – on August 28, 1980.
He helped patent a 'game-changing' technique, known as spin-warp imaging, which was adopted throughout the world and is still used today in hundreds of thousands of MRI machines.
And yet, friends and colleagues spoke yesterday of how he regarded himself as part of a team and was never interested in personal glory.
The technology behind MRI was developed in the 1970s by a number of teams worldwide, including those at Aberdeen and Nottingham Universities.
But it was Prof Hutchison who created the first full-body scanner, a development that changed the face of MRI research.
Professor David Lurie, who joined his team as a young researcher at Aberdeen after completing his PhD, said many in the scientific community had dismissed MRI as a non-viable technology.
"But in 1980, Jim co-invented spin-warp technique with his colleague Bill Edelstein, and the difference was night and day. It dramatically improved the images overnight.
"Without doubt, he was the most capable scientist I ever met. He knew about everything, not just about MRI. He had an incredibly broad knowledge of science and engineering.
"Jim was also incredibly modest. He never wanted to take personal credit for anything.
"It wasn't important to him to get prizes and recognition and people saying how brilliant he was – he just wanted to produce good science.
"He was, of course, awarded numerous prestigious prizes and awards but he didn't particularly like the public attention."
Prof Hutchison attended Blairgowrie High School before completing a PhD at St Andrews in the 1950s.
Having developed an expertise in Magnetic Resonance, he was appointed to Aberdeen University's medical physics team in the 1960s.
Professor Steve Heys, the current head of the School of Medicine, Medical Sciences and Nutrition, said yesterday: "Professor Hutchison will be remembered as a true pioneer of MRI technology.
"Along with the team around him, they changed the face of medical imaging – an impact still felt today with the use of their techniques in modern MRI machines.
"Our thoughts are with his wife Meg, herself an accomplished MRI scientist at Aberdeen, at this sad time."
His funeral will be held on Friday at 11.30am in Trinity Church, Westhill.