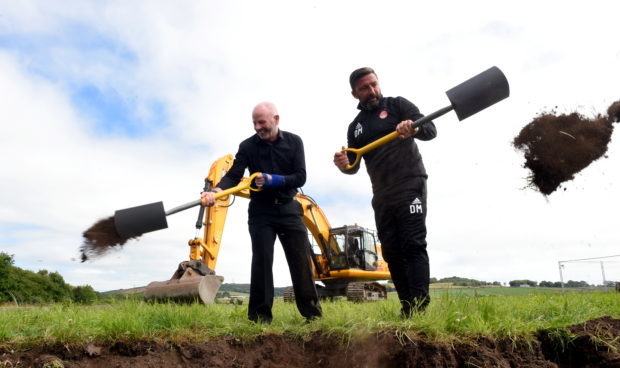 Aberdeen FC has received a £1 million funding boost to build training and community sports facilities at the new Kingsford stadium.
The investment was announced yesterday as the club revealed that the building would be named The Bobby Clark Football Academy in honour of the former Dons and Scotland goalkeeper.
American businessman Tom Crotty, who invested £775,000 into the club through buying shares last year, has pledged a further £500,000 which will be matched by board director Dave Cormack.
The proposed sports facilities at the Kingsford site includes floodlit 3G pitches on the grounds as well as indoor and outdoor sites for sporting and recreational activities.
Mr Crotty said he was glad to be investing in the club.
He said: "In my experience, and particularly through my work with grassroot soccer, football has a hugely positive impact across whole communities.
"The club has to be congratulated on its approach to delivering sports facilities for the wider community, not just a footballing academy for its own players, and for the exceptional work of AFC Community Trust.
"I'm thrilled to further support these ambitions."
And Mr Cormack said it was a fitting tribute to the former Dons goalkeeper.
He said: "Bobby has been both a mentor and friend for over 40 years and our additional investment will help deliver an academy that will be a fitting tribute to him.
"The club has done a tremendous job in securing about half the money required for phase one.
"It's a tough balancing act to generate additional revenues for short-term, on-the-pitch performance that allows us to compete, while fundraising for the training facilities which will keep us at the top by attracting and nurturing talent for the longer term."
Stewart Milne, the chairman of Aberdeen FC, said the club was on track with the first phase of raising the funds needed to build the site.
He said: "These are two important additional investments for which we are incredibly grateful.
"Despite the ongoing challenges in the market, we are very much on track with our fundraising for phase one – the community sports hub and training facilities and we plan to announce further exciting fundraising plans in the coming weeks.
"Work on the site is progressing well and we hope to have this phase ready for next summer, when we can officially launch the Bobby Clark Football Academy."