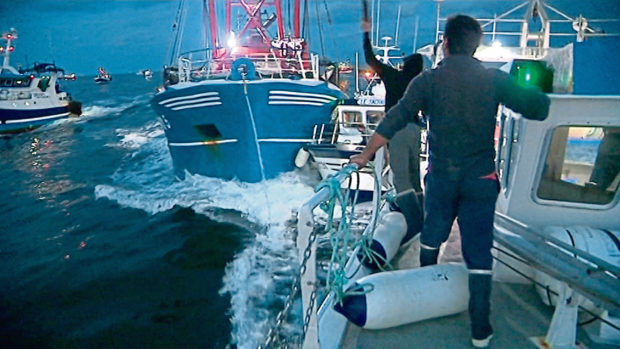 Royal Navy warships are now closer to flanking north-east fishing vessels into disputed French waters after high-level talks failed to resolve an explosive "war" over scallops.
Last month, French fishermen hurled flares and rocks at Peterhead and Macduff-registered trawlers in an attempt to keep them away from a stretch of the English Channel near Normandy known to be rich with the coveted shellfish.
The UK and France entered into talks aimed at resolving the dispute shortly afterwards, but the negotiations fell apart yesterday – prompting calls for drastic action to ensure north-east crews can return to work.
The saga has prevented local vessels from fishing for scallops for more than a fortnight, hammering the takings of local firms which rely on their hauls.
Graeme Sutherland is a director at Fraserburgh firm Whitelink Seafoods and owns Georgia Dawn, one of five boats attacked by fishermen off the Normandy coast last month.
Last night, he repeated a call for the Royal Navy to intervene to ensure his boat can return to the water without facing a repeat of the violence which took place in August.
Mr Sutherland said: "I really hope the UK government can help us when it comes to this.
"If there's a deal going to be done you don't want it to put us at a disadvantage, as we are perfectly entitled to fish there.
"It seems to me that the French are unwilling to resolve this."
---
>> Keep up to date with the latest news with The P&J newsletter
---
Crews clashed over laws that allow British boats to gather scallops year-round, but place restrictions on French vessels.
In protest against the regulations, 35 French boats confronted five British craft off the coast of northern France towards the end of August.
The fracas was caught on film, with rocks and smoke bombs being hurled at UK vessels.
Tory MP Philip Hollobone yesterday called for military action to back up the UK's "moral right" to fish in the contested area.
Speaking in the Commons, he said: "If this fishing is taking place outside of French territorial waters why can't the Royal Navy accompany our ships back into those fishing grounds?
"If we've got fishery protection vessels and type 23 frigates permanently positioned in the Channel, surely the Royal Navy should be at sea with our fishermen to protect their livelihoods?"
Environment minister George Eustice responded by saying it was the responsibility of the French authorities to police and enforce fishing activity in the area.
He told MPs that he had written to his French counterpart to express his "disappointment" at an agreement not being reached to end the "scallop wars" in the English Channel.
He told the Commons: "The UK Government has offered to assist French enforcement authorities with MMO (Marine Management Organisation) personnel should they want to consider joint operations given the risk of further altercations.
"I have also asked the French government to consider the alternative options available to them.
"Secondly, it is open to the French government to lift the domestic restrictions they have in place earlier than they normally would in order to address concerns that their industry has expressed about the lack of a level playing field."