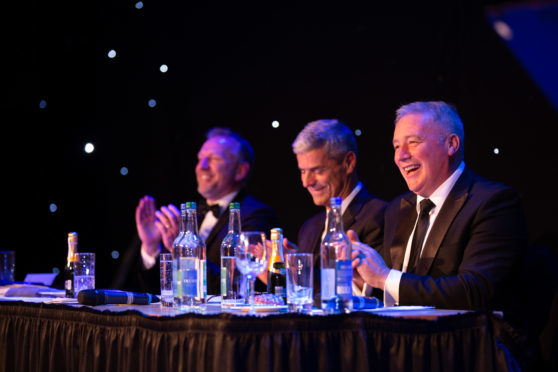 Charities across the north-east have scored a boost of £80,000, following a fundraiser hosted by football personality Ally McCoist at the AECC.
Led by Simmons and Company Limited, the Sportschallenge has now raised more than £500,000 over the last six years.
This year, Maggie's, Children's Aid (Scotland), Dyce-based Grampian MS Therapy Centre and Banchory dementia charity Forget-Me-Not benefited from the event.
Beetle-browed teams from businesses across Aberdeen and the north-east battled it out across five rounds of sports trivia as they competed in the Question of Sport-style quiz.
Former Rangers and Scotland player McCoist put his own television experience to good use as he hosted the event, alongside former Scotland rugby captain and sports commentator Andy Nicol.
Money raised will go towards Banchory's Active Forget-Me-Not project, which helps individuals with dementia to continue enjoying sports and activities, while the Grampian MS Therapy Centre in Dyce will use the money to upgrade and refurbish its oxygen chamber, which is more than 35 years old.
Aberdeen-based accountants Johnston Carmichael, picked up first place and the Champions League award, with fellow players from Stronachs walking away with second place and the Europa League title.
Nick Dalgarno, managing director at Simmons said: "We set out with high ambitions to reach £500,000 and I am delighted that we have been able to achieve that in only six years.
"Both Forget-Me-Not and the Grampian MS Therapy Centre Are fantastic causes serving our local community and I am pleased to have been able to support them.
"What struck me most was that both dementia and multiple sclerosis are conditions that can happen to anyone."
Mr Dalgarno mentioned ex-AFC player, Chic McLelland, who now suffers from dementia and has been using the centre for two years.
Through the Active Forget-Me Not walking football sessions, the former Dons defender has regained his ability and passion to take part on the pitch.
The money raised through Sportschallenge will fund an additional 300 hours of free Active Forget-Me-Not sessions every month and continue to make huge differences to the lives of those affected.
Mr Dalgarno added: "For all of our chosen charities, and there have been 12 so far, Sportschallenge provides so much more than just much needed funds to invest in new facilities, projects and existing services.
"It also provides an opportunity to increase their reach and raise awareness about the work that they do and the services they provide."