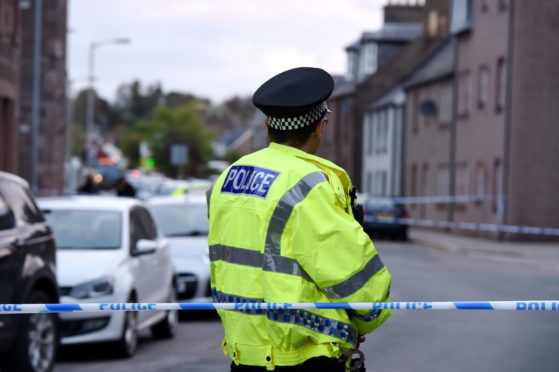 Crime in Aberdeen, Shetland and the Western Isles has plummeted by 12% in the last year – the biggest reductions in Scotland.
The dramatic fall means that the Granite City is no longer the nation's second highest crime area per head – after dropping to fourth behind Glasgow, Edinburgh and Dundee.
The crime rate per 10,000 people was 547 in Aberdeen last year, compared to 606 in the previous year and 1,018 a decade ago.
It follows a 19% cut in "dishonest" crimes such as theft and fraud in the city, a 12% fall in sexual crimes, a 6% reduction in other types of violence, and 5% decrease in fire-raising and vandalism.
"Figures are a testament to our staff"
Last night the north-east's top cop said he welcomed the reduction but stressed the force would "never be complacent" in ensuring communities were safe places to visit and live.
Chief Superintendent Campbell Thomson, divisional commander for the North East division, said: "I want to take this opportunity to thank the public for the excellent support we receive here in the north-east which we do not take for granted.
"These figures are a testament to our staff – police officers, police staff, special constables and youth volunteers who I believe do an excellent job.
"It's important to recognise the strength of partnership working in the north-east of Scotland and I believe the crime reduction is a reflection of that."
"These are crime statistics but behind every statistic there is a victim and we are very mindful of that and the impact crime has on these people and their families and loved ones.
"We will never become complacent and will continue to work together with our partners in even more innovative ways to ensure that people in the north-east get the very best service that they can."
---
>> Keep up to date with the latest news with The P&J newsletter
---
Meanwhile, a 43% fall in violence ensured the Western Isles remained the area with the lowest number of recorded crimes, despite sexual crimes being up by a third.
In Shetland, the third area to experience a 12% reduction overall, a major decrease in crimes of dishonesty outweighed rises in violence, sexual crimes and vandalism in the overall figures.
The statistics also show that total recorded crime in Moray fell by 6% between 2016-17 and 2017-18, while it was down by 4% in Orkney, and by 3% in Aberdeenshire.
The Highland and Argyll and Bute areas both experienced a 1% rise, in line with the average across Scotland, despite the number of sexual crimes in Highland having been cut by almost a quarter in a year.
Across Scotland, sexual crimes increased by 13% from 11,092 in 2016-17 to 12,487 in 2017-18, which police put down to victims feeling more confident to come forward.
Other violence was up by 1% nationwide, as was dishonesty, while fire-raising and vandalism was down by 2% to the lowest level since 1978.
The police "clear-up" rate for all crime, meaning enough evidence has been gathered to justify consideration of criminal proceedings, fell by 0.9 points from 50.0% to 49.1%.
The data also shows that in the last decade, total crime has fallen by 61% in the Western Isles, 60% in Shetland, 51% in Argyll and Bute, 48% in Moray, 45% in Orkney, 43% in Highland, 42% in Aberdeen, and 28% in Aberdeenshire.
Scottish Conservative shadow justice secretary Liam Kerr said: "The 1% rise in crime might seem a small number on the face of it, but in reality it translates to thousands of incidents.
"What's equally worrying is such a stark failure to solve and detect crimes."
Justice Secretary Humza Yousaf said: "Scotland's streets are now safer and less violent than they were a decade ago.
"This is due in no small part to the pioneering work across the justice system, NHS, schools and other partners to prevent crime at its source."