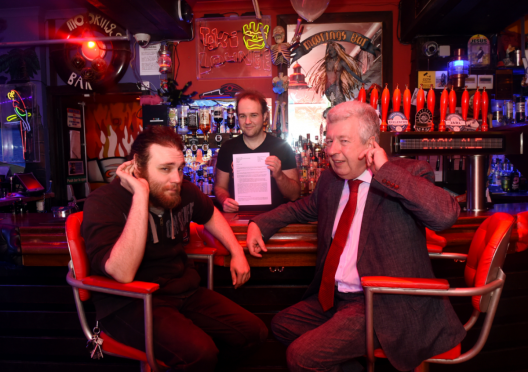 Live music venues have moved a major step closer to securing more legal protections against new housing developments.
A bid by north-east MSP Lewis Macdonald to change draft planning legislation cleared a key hurdle yesterday by winning backing at a Holyrood committee.
He is seeking to enshrine in law the "agent of change" principle, which would make developers building near music venues and other businesses responsible for taking measures to address noise concerns.
A majority of MSPs on the local government committee backed Mr Macdonald's first amendment when they considered stage two of the Planning (Scotland) Bill yesterday.
Speaking after the decision, Mr Macdonald said: "This is very welcome news for music venues across Scotland, many of whom are facing an uncertain future because of the proliferation of city centre developments.
"Including the agent of change principle in law is a common sense approach.
"It allows councils to refuse planning application if they feel the operation of an existing live music venue would be adversely affected by a new development, or to impose planning conditions on the developer to ensure that their building is adequately sound-proofed.
"The committee has clearly decided the best way forward is to endorse these proposed changes at this stage and to do any necessary tweaking when the Bill is considered by parliament as a whole at stage three, rather than to wait for government ministers to bring forward further amendments of their own."
The Labour MSP added: "This support means that Scotland is taking the lead on protecting live music venues and moving ahead of England and Wales by including Agent of Change in planning law and not relying on planning policy alone.
"This has been a long campaign, but thanks to support from Music Venue Trust, UK Music and music venue owners and music lovers from across Scotland, we are making real progress on protecting Scotland's live music heritage."
Craig Adams, of Aberdeen live music venue Krakatoa, also welcomed the progress, saying: "Today's vote, represents a step change in Scotland's approach to protecting grassroots music venues.
"The delineation of culturally significant zones in particular has always been a key component to addressing this problem.
"What Lewis and his team have achieved in support of live music is absolutely phenomenal."