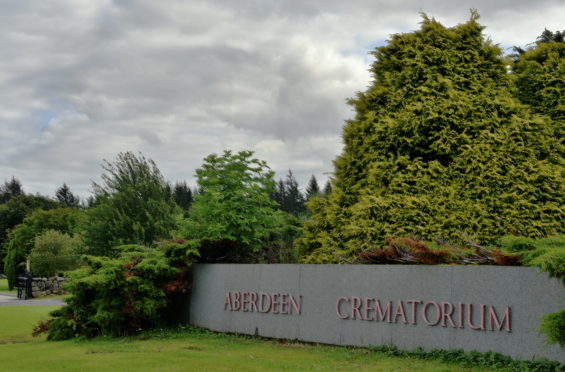 It was a journey which began with a daughter's desire to spread her parents' ashes in Aberdeen's Hazlehead Crematorium.
But it ended with controversy raging about the behaviour of taxi drivers across Scotland in dealing with passengers who use wheelchairs and other mobility aids.
Liz Mackenzie and a group of her family members arrived at Aberdeen Airport last weekend for a poignant return to the north-east, following the death of her parents, Dorothy and David, during the last 18 months.
They were planning to go out for a meal at city centre restaurant, Howies, but suddenly their thoughts turned to other matters when a group of cabbies refused to grant them access to supposedly wheelchair-accessible taxis.
And Mrs Mackenzie, 59, who was accompanied by her 93-year-old aunt, described in detail the circumstances which have sparked an investigation by Aberdeen City Council.
She told The Press and Journal: "I was devastated at the response from these taxi drivers; I'd never felt so humiliated.
"I have only been using a wheelchair recently, but have been disabled for a while. Last time I visited, I had no problem at the airport with taxis, so this was a huge shock.
"Aspects keep coming back to me, such as the first driver's opening line which was to speak over me, to [her sister] Barbara, saying: 'Can she get out of that?' as if I wasn't even there.
"And then, there were the other people waiting for taxis who stood by and said nothing and took the chance to jump the queue.
"I'm well aware of prejudice and ignorant attitudes, but to be faced with this, especially given my reason for visiting, was awful.
"My dad was born in the city and lived in Ruthrieston Circle. He was a passionate Dons supporter and, in the last few weeks of his life, he watched the Dons DVD I bought him for Father's Day.
"I've always found Aberdeen folk to be warm and helpful and I won't let a few scar the many more good people.
"I have heard of many people facing such issues in their lives but it's truly terrible to be on the receiving end and it's hard to explain.
"However, the hotel I stayed at suggested ComCabs and I used that taxi service a few times after the awful airport debacle.
"I had the same driver each time, Mark Cullen, and he was excellent. He knew what to do, was efficient and kind and he could show those other drivers how to treat a disabled person with respect and operate the equipment properly. "I felt like a person with him, not a nuisance or an oddity."
Taxis, however, are just one of the challenges facing people with disabilities. There are other concerns across the country's major cities.
Mrs Mackenzie highlighted some of these which she noticed on her trip to the Granite City.
She said: "The next time you're wandering round Aberdeen – or any major city – note that some streets have so few dropped kerbs that you often have to go a long way to travel a very short distance.
"Chapel Street is one of these. To get from the Holiday Inn to Howies, you have to go right down nearly to the lights at Union Street before you find a dropped kerb.
"I need someone to push my wheelchair – I'm not sure I would feel confident going out if I was alone.
"In addition, many streets have poor paving with loose, cracked parts of the pavement – it's difficult in a wheelchair and when walking with impaired mobility too.
"I remember Tony Blair pronouncing early on as Prime Minister that disabled people would have full equality by 2020 and thinking that seemed a long time off.
"But nowadays, 20 years later, I think we are STILL a long way off!"