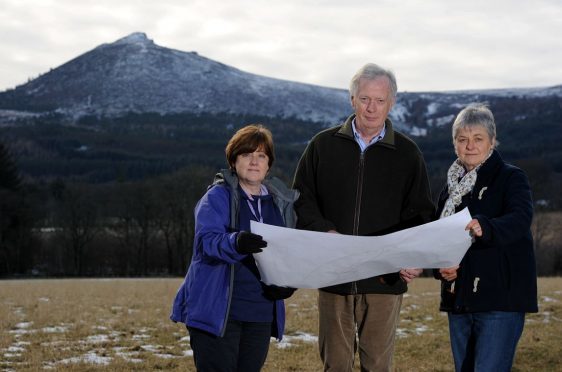 Campaigners fighting to save an iconic Aberdeenshire landmark have urged people to come forward to voice their opinions.
The preferred route options for the section of the A96 dualling project, which links Huntly to Aberdeen, will go on public display next month.
The Save Bennachie campaigners fear that a proposed high level route across the foothills of the mountain may still be under consideration.
Margaret Garden, from the campaign, said: "It's vital that everyone who cares about Bennachie comes to these exhibitions and lets Transport Scotland know how much we value our precious landscape.
"We have received widespread support for our demand to completely rule out routes that damage Bennachie and the surrounding area but at this stage we have not received any guarantees.
"It is important that Transport Scotland and their consultants understand the depth of feeling on this issue. We have a shared responsibility to protect Bennachie for future generations".
A series of public exhibitions are being held during October to let the public and road users see and comment on a number of initial options that have been developed for the 26-mile section of the A96 between Huntly and Aberdeen.
The formation of these options follows initial design and assessment work, along with consideration of the feedback received to date.
Secretary for Transport, Infrastructure and Connectivity Michael Matheson said: "The Scottish Government has given a clear commitment to dual the A96 which will see delivery of around 88 miles of upgraded road between Inverness and Aberdeen, a huge task but one we are committed to delivering.
"As part of that work, we are taking forward the design work for the stretch of the route between Huntly and Aberdeen and next month we will let people see the options we have developed for this challenging section of the A96.
"I would encourage anyone with an interest in this scheme to visit one of the exhibitions and give us their views. The vital feedback we receive will help inform the design and assessment work as we look to identify a preferred route option next year."
The public exhibitions are being held in Inverurie Town Hall on Monday October 8 until Tuesday October 9.
Further opportunities to view the routes will also be at Stewart's Hall in Huntly on Wednesday October 10 and finally at Kinellar's Community Hall on Thursday October 11.
All exhibitions run from noon until 7pm.