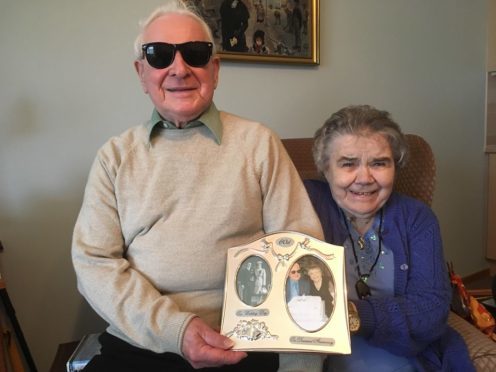 A man "lucky to be alive" after his childhood home was bombed in World War II has achieved the rare feat of celebrating his 70th wedding anniversary.
Lenny Baxter was 13 when the Nazis attacked the Footdee area of Aberdeen and destroyed his family's home above the Neptune Bar along with a shipyard.
It was only through chance that he had been visiting his grandmother, in Spital, at the time and avoided the blast.
---
>> Keep up to date with the latest news with The P&J newsletter
---
The 91-year-old said: "The Neptune Bar used to have several floors above it until that day, it is just a good job we were not in it at the time as a lad downstairs was killed, along with many others."
Suffering the loss of neighbours and being temporarily homeless was the first of several challenges Mr Baxter would face – as he unexpectedly lost his sight aged 27 and is severely deaf.
But the irrepressible pensioner has been helped through life's hurdles by his wife, Jane, and the pair marked their platinum wedding anniversary this week.
Mr Baxter, who still plays tunes on the keyboard every night, joked that the couple were now aiming to reach their 100th anniversary having cracked their latest marital milestone.
The pair met as the country was emerging from WWII in 1945, and the dance halls became popular meeting spots.
Mrs Baxter, 88, was a singer with the Charlie Styles Band when she and her husband met while she was performing at the Beach Boulevard.
She said: "I was on a break when Lenny asked me to have a dance, and that was how it began.
"The band leader had to give me a wave to get me back on stage."
The couple married at St Mary's Church on King Street in 1948, and their first daughter, Sylvia, was born in 1949 and another daughter, Brenda, followed shortly thereafter.
Despite losing his sight, Mr Baxter remained remarkably dexterous and spent more than 30 years working in an upholstery workshop for the blind on Huntly Street.
He said: "I just thought I needed to get by, and put my mind to it."
The pair have four grandchildren and four great-grandchildren.
The whole family joined together at the couple's sheltered housing accommodation in Kingswood Court recently for a party.
Mr Baxter said he did not even get to enjoy the cup of tea he had been given, as he was up dancing for the duration.
A rare milestone
Mr and Mrs Baxter received a card congratulating them on their anniversary from The Queen, who celebrated reaching the very same landmark with the Duke of Edinburgh last year.
The distinction places the Aberdeen couple and the royal pair in a very exclusive club.
At the time of the Queen's platinum anniversary, in November, it was estimated that only 30 couples in the UK would reach that milestone that year.
As the country has a population of about 66 million, that means that each of the 60 people marking the anniversary are even fewer than "one in a million".
But, in an incredibly unlikely twist of fate, Mr and Mrs Baxter were not the only pair in the north-east to observe their platinum anniversary this week.
Just four days before the couple got married on King Street, Jim and Margaret Black also tied the knot in the city.
And last Friday, Mr and Mrs Black staged their own celebrations at their home in Alford.
Mrs Black said the secret to their long relationship had been "a happy family with everyone in harmony".
Mrs Baxter offered her own advice to any young couples setting out on marriage.
She said: "I would tell people that it is perfectly normal to have arguments, and to make up, you shouldn't go running home to your mum after a disagreement.
"We are not a couple that claims to have never had a row but it's never been anything serious."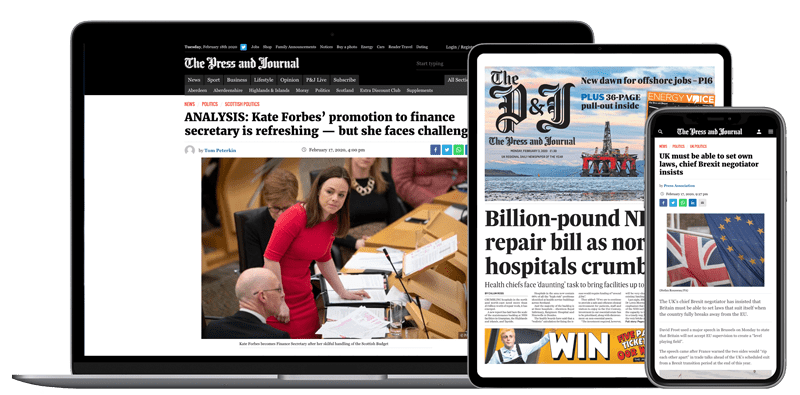 Help support quality local journalism … become a digital subscriber to The Press and Journal
For as little as £5.99 a month you can access all of our content, including Premium articles.
Subscribe