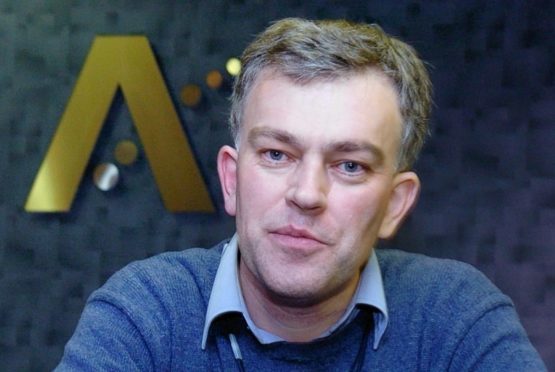 Aberdeenshire Council has become the first authority in Scotland to formally discuss and support a further Brexit referendum.
After a lively debate in the chamber at yesterday's full council meeting and ironically a re-run of the electronic voting system, the motion presented by Green councillor Martin Ford was eventually supported.
Speaking afterwards, Mr Ford said he was "delighted" with the outcome and that the "monumental" motion was now official council policy.
He argued that the 2016 referendum had been "poorly conducted" with a low turnout and that "lies had been told".
Aberdeenshire Council to discuss supporting another Brexit referendum
He added: "I am surprised at myself; I think referendums should be used sparingly. However, I have changed my mind by witnessing the world around me – and I'm clearly not alone. The People's vote campaign is gaining more and more support.
"Brexit has become a car crash. People are entitled to decide if we can still proceed with Brexit with or without a deal. Let them now make an informed decision."
Liberal Democrat and deputy leader of the council Peter Argyle agreed with Mr Ford and backed the motion, adding: "The referendum we were given in 2016 was a binary choice – yes or no.
---
>> Keep up to date with the latest news with The P&J newsletter
---
"The prime minister then triggered article 50 without first having made a deal. So much has changed since then. Parliament is split. Parties are split.
"But deal or maybe no deal at all, nobody voted in 2016 to get to where we are today."
The motion considered before the meeting read: "Brexit is expected to have significant economic and demographic consequences for Aberdeenshire. Depending on any terms agreed, there will be loss of access to markets and labour predicted to negatively affect the economy.
"Accordingly, Aberdeenshire Council supports the holding of a further referendum to give the UK public the final say on any terms agreed for Brexit, that referendum to include the option of the UK remaining in the EU."
SNP councillor Richard Thompson also agreed with Mr Ford's sentiments and had put forward a similarly-worded option of his own and also lambasted the 2016 referendum which had included "money laundering" and "data manipulation".
People's Vote can be held before Brexit – and here's how, new report says
Tory councillors unsuccessfully countered with a move to quash the motion.
They stated that the council should respect the "democratic decision" made in the 2016 referendum.
Fraserburgh councillor Andy Kille, argued that Brexit and "any suggestion of a re-run" of the referendum was a matter for the UK parliament and "not Aberdeenshire Council".
Councillor Kille said: "Councillor Ford would do well to remember that we have already had a People's Vote. It was the 2016 referendum.
"The British people voted to leave the EU and we must respect that democratic outcome. This is a people's Brexit."
Alongside six other Tory councillors, Mr Kille registered his dissent at the passing of the motion.