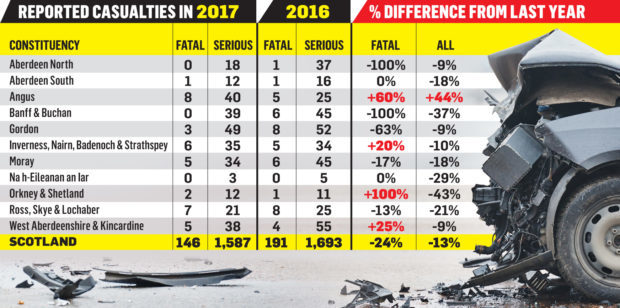 New figures have revealed that fewer people have been killed or injured in road accidents across the north and north-east of Scotland.
The UK Government statistics give a breakdown of the number of casualties involved in crashes for each constituency in the country.
Emergency crews dealt with 39 serious accidents in the Banff and Buchan area in 2017 compared to 45 the previous year.
The region had the highest rate of deaths or serious injuries on UK roads relative to population and more than double the national average in 2015.
Police have been carrying out operations to help reduce dangerous driving and speeding on the main A947 route through the area and road improvements have also been carried out.
There were also 10% fewer motorists injured in the Inverness, Nairn, Badenoch & Strathspey constituency over the same period and 18% less in Moray.
And there were 27% fewer casualties in Aberdeen compared to a drop of 18% in other areas of Aberdeenshire.
Road Safety North East Scotland, a partnership consisting of all three councils in the Grampian area, NESTRANS, NHS Grampian, the fire service and Police Scotland, promotes road safety and the reduction of road casualties across the north-east.
Chairman Ewan Wallace said: "The overall reduction seen in north-east collisions is welcomed, however, caution has to be exercised when reviewing year-on-year collision statistics.
"Annual figures can vary quite significantly and it can be challenging to identify underlying reasons behind statistical variations as well as on the spatial definition of parliamentary boundaries.
"The longer-term and pan-Scotland position remains positive, with far fewer people being killed and injured on north-east roads."
Moray Council hailed the efforts of road safety groups for rolling out effective campaigns, such as Safe Drive, Stay Alive, to educate secondary pupils about the importance of staying safe behind the wheel.
However, Moray MP Douglas Ross highlighted that the statistics were bound to change for his constituency over the next year following the tragic deaths of five people in July.
A four-year-old Italian boy was among the five people killed in the crash between a minibus and a car on the A96 near Keith.
Mr Ross said: "It was one of the worst accidents in Moray for many years.
"With the tragic loss of five lives, that one single accident will likely mean there is a significant rise in the number of fatalities for 2018.
"It shows that we can never be complacent."
And Banffshire and Buchan Coast SNP MSP Stewart Stevenson said: "A decrease is always welcome and there has been a noticeable downward trend.
"Even one road accident is too many.
"It is clear there have been real efforts by police and the local authority to emphasise the dangers of careless driving.
"There is still much work to be done."
Jack Cousens, head of roads policy for the AA, said "real progress" in reducing road fatalities has stalled for far too long.
He said: "Although there is a reduction in the number of Scottish road deaths compared to last year, more effort is clearly needed to improve safety across Scotland for all road users.
"We feel it is time to set a challenging target and aim to reduce annual road deaths to zero within 10 years. We should also improve driver education, police enforcement and indeed engineering of some of our most dangerous roads."