The academic at the centre of Robert Gordon University's cronyism row privately dismissed the issue as a "conspiracy theory".
The remark is contained in a series of e-mails, released to The Press and Journal under freedom of information laws, detailing conversations between former RGU principal, Ferdinand von Prondzynski, and vice-principal Gordon McConnell.
A dispute over the recruitment of Professor McConnell – who was a former colleague and business partner of the principal – sparked the resignation of Professor von Prondzynski in August.
The correspondence indicates the former Dublin City University colleagues discussed the idea of Prof McConnell moving to RGU in September 2015 – two years before he became vice-principal for commercial and regional innovation.
They show Prof von Prondzynski told Prof McConnell he felt "guilty about dragging you here and into this stuff" after a row erupted over their failure to declare they were co-directors of a firm which owned a £12million castle in Ireland.
RGU withheld 10 e-mails from the P&J, arguing they "related to future commercial interests of the university".
The business link between the duo was not discussed in any of the published e-mails, before or after the connection was made public.
---
>> Keep up to date with the latest news with The P&J newsletter
---
On February 8, 2016, Prof von Prondzynski contacted Prof McConnell, who was working at King Abdullah University of Science and Technology in Saudi Arabia, about a potential job opening.
He wrote: "I am just giving you a quick heads up that we will probably go live with a the new senior management structure and the resulting recruitment for a vice-principal for commercial and regional engagement shortly.
"Of course, before initiating that, I'd love to hear what your current thinking is in the matter."
Prof McConnell turned down the opportunity and said: "Please know that none of this was really on the horizon last September when we talked."
An internal RGU inquiry into Prof McConnell's appointment previously noted he had attended the university to give a talk in September 2015, but it was ruled that the visit had "no relevance to the subsequent events".
On June 11, 2017, the principal again raised the prospect of a job opening, telling Prof McConnell: "Just in case you might be interested in RGU after all, let me know.
"There may be an opportunity now again. You can't blame me for trying."
Prof McConnell was offered the job in September last year.
Six days after the P&J reported an inquiry had been launched into the non-declaration of their business links, Prof McConnell e-mailed the principal to suggest he step back from public duties.
On May 23 this year, he stated: "I don't believe it is a good idea, until a response has been made publicly, and the cloud regarding my fitness or suitability for the role has been dealt with.
On June 29, he added: "Am I meant to go to graduation with this conspiracy theory still going on?"
Three days later, Prof von Prondzynski wrote: "I feel guilty about dragging you here into this stuff.
"It will be over shortly, but I can see it has affected you, and I am genuinely sorry."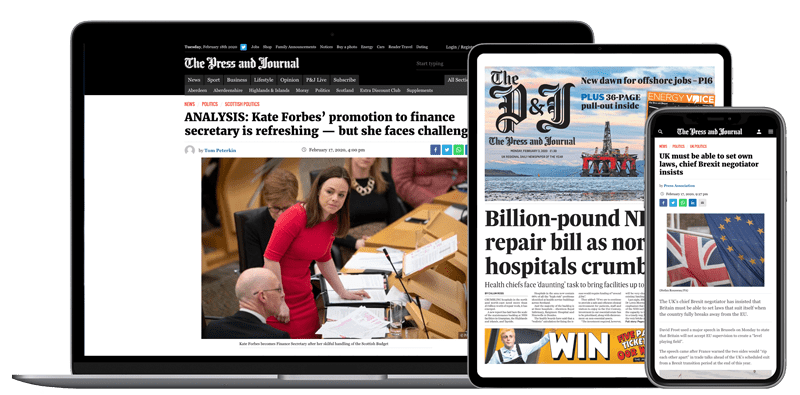 Help support quality local journalism … become a digital subscriber to The Press and Journal
For as little as £5.99 a month you can access all of our content, including Premium articles.
Subscribe