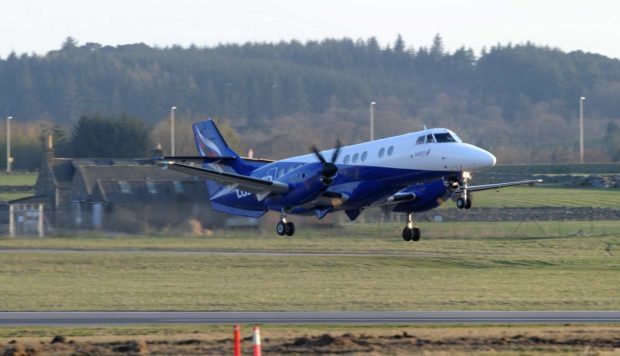 Eastern Airways travellers have been told its flights between Stornoway and Aberdeen are to be stopped within weeks.
Earlier this year the airline announced it was to increase the number of flights on the route.
But customer service agents have said the service will cease on October 29 and anyone with flights booked after that date will be refunded.
The airline has said the route has become too costly to run.
Western Isles MSP Alasdair Allan said: "This is yet more disappointing news for users of the Aberdeen to Stornoway service.
"The decision to end this service with less than three weeks notice and no consultation contrasts sharply with past statements the company has made about being dedicated to the route and serving the islands.
"It was only in March that they announced an increase to the number of Aberdeen flights before reversing this decision within the space of a few months. There have also been serious complaints about reliability.
"The Aberdeen service is an important one, especially to those islanders who work in the oil and gas sector."
"I have written to the Cabinet Secretary for Transport, Michael Matheson, to express my concern about this state of affairs and I have also written to Loganair to ask if they would consider an Aberdeen – Stornoway service."
An Eastern Airways spokeswoman said: "Regrettably, due to the increasing costs of operating the Aberdeen – Stornoway route, we are left with no alternative but to withdraw the service from October 29 as it becomes unviable to sustain.
"With a mix of increasing ground handling charges at Stornoway airport, fuel increasing, compensation likelihood as we head into winter combined with a shortage of aircraft following ground handling damage sustained to two aircraft in the past months reducing fleet availability in the short-medium term, these have combined to culminate in our decision to withdraw from the route.
"Passengers with bookings beyond October 29 will be offered a full refund."