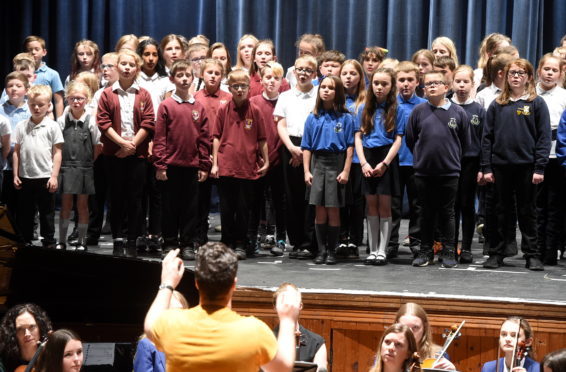 North-east pupils took part in an "inspirational" concert last night as part of the Haddo Arts festival.
More than 100 pupils from Formartine primary schools performed A Song For Haddo and brought weeks of practice to a rousing end.
As part of this year's Haddo Arts, the pupils took part in MacOpera's outreach concert and also performed new pieces based on the song cycle Friday Afternoons written by Benjamin Britten.
The new pieces were composed by Snape Malting's Errollyn Wallen who also came along to hear the performance for herself.
Haddo Arts Festival co-ordinator Cathy Guthrie last night said it was "brilliant" that Ms Wallen had managed to attend the event.
She added: "It's a rare treat for the pupils to meet a live composer. They have all worked so hard – it's fantastic to see and truly inspirational.
"A vocal specialist and songwriter from MacOpera Outreach has delivered workshops in primary schools around the Formartine area.
"They worked with the children on vocal technique and ensemble singing and gathering material with the children to write a commissioned Song for Haddo, which was accompanied by strings and piano."
The ensemble of young players and professionals also performed a selection of pieces from Peter Warlock's Capriol Suite, and accompanied conductor and baritone Andrew McTaggart in a selection of short arias.
The arts festival this year again has creative installations in various "nooks and crannies" of the estate – and some are in parts of the house that are not usually open to the public.
The unusual locations include a washroom, a pantry and a courtyard of the historic Aberdeenshire mansion.
The exhibition is the Aberdeen Artists' Society's first ever display at Haddo House.
Featuring more than 50 artists, the works range from knitted planets to full-size cardboard cut-outs of security guards.
The exhibition runs until Saturday, October 20.
For more information visit: www.haddoarts.com