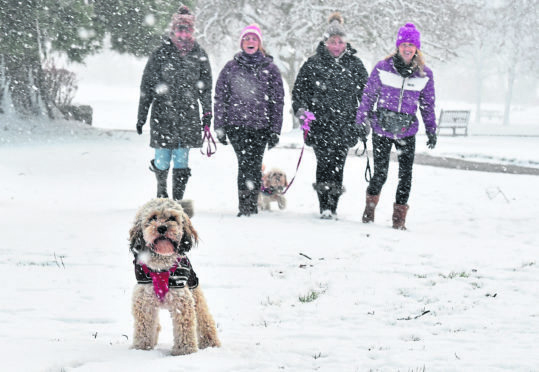 Forecasters have warned that the first blast of snow this winter could hit the north and north-east of Scotland next week.
Councils across the region are already preparing for freezing conditions with gritters out working on the roads.
Temperatures have recently plunged overnight with the coldest of the autumn season in the UK so far being recorded in Aboyne, in Aberdeenshire, on October 7 at -4.3C.
Communication vital in responding to repeat of severe winter weather, says Aberdeenshire Council's infrastructure boss
Alex Birkhall, meteorologist at the Met Office, said: "There is a risk of snow at some point next week, it is certainly not out of the question to see snow before the end of October.
"High pressure winds from the UK will have a larger impact further north, and snow at higher grounds in particular is a definite possibility.
"While we have a while before autumn officially ends, things will start feeling slightly more wintry sooner rather than later."
The autumn season in the UK officially begins at the start of September and ends in November.
The good, the bad and the not so ugly – looking back at the Beast from the East
Mr Birkhall added: "Sheltered towns and villages are likely to be more cold – and nights in Aberdeen and Aberdeenshire will likely be around -2C, or -3C for a while.
"Frost will creep up soon enough as well, in the autumn period we will see roughly 10 days of frost, and 25 instances of grass frost."
The Met Office said it was too early to predict whether the winter would rival the severe cold snap which hit the UK earlier this year.
Councils have already started preparing for the colder conditions.
An Aberdeen City Council spokeswoman said: "Our early morning and standby gritting operations start from 16 November until 20 March or later should winter conditions continue, and we provide a 24/7 service during severe weather conditions.
Any plans this weekend? Here are the details pic.twitter.com/Mkaf9E8DIT

— Met Office (@metoffice) October 18, 2018
"We had gritters out one night this season already, and our roads operational services are prepared for winter, with briefings and training sessions being held for our hard-working roads and ground staff who are outside in adverse weather conditions."
And on Wednesday Aberdeenshire Council deployed more than half their fleet of gritters in anticipation of "frosty conditions."
A Highland Council spokeswoman said: "Highland Council has approved its winter maintenance policy for 2018/19 winter, we have sufficient grit supplies in store, a weather monitoring system across the council's roads; staff and equipment in place and are ready for winter."