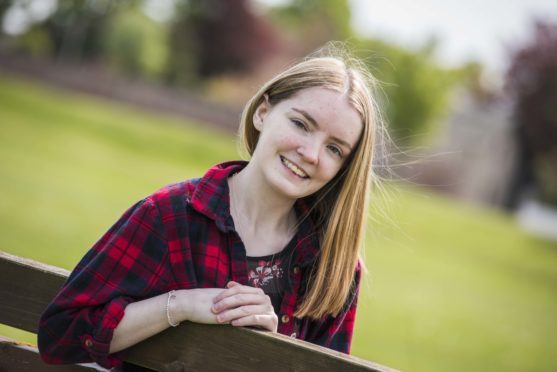 A new report has laid bare the plight of people who fall victim to strokes, chest and heart conditions.
Chest, Heart and Stroke Scotland has published figures which reveal that about one in five people are missing out on vital support because they do not know what is available to them.
CHSS is calling on the Scottish Government to establish a "Right to Rehab" to ensure equal access for everyone.
The report, One in Five, is based on a survey conducted with 1,164 people coping with various conditions.
Among them is Hollie Simpson from Forres, who had a stroke while she was undergoing an operation to stop her coughing up blood, a problem brought on by cystic fibrosis.
The 23-year-old was being operated on when she blacked out and when she woke up realised she could not feel her right side or speak to alert the surgeons who placed her under general anaesthetic because she was moving so much.
"I had to learn how to speak, read and write again. The movement in my right side returned quite quickly so I was back on my feet relatively quickly.
"When the CHSS support worker, Wendy, came out to visit me I was really anxious about leaving the house because of my speech problems, I was also scared the bleeding would start again.
"So Wendy took me out for coffee and other things and talked for me and gradually she was able to persuade me my speech was improving and I started to take the lead.
"I think it's very important people get the support they need as quickly as possible because the quicker you get it the better chances of recovery you will have so you can lead a more normal life."
Ruth Ironside, from Stonehaven, had completed three triathlons in the year before she suffered a stroke caused by a hole in her heart.
The mum-of-two woke up one morning without any feeling in her left side and was found by her son.
The 51-year-old, who works at Lathallan School, described the impact of the stroke as "traumatic".
"I couldn't do things that I was used to doing, like play the piano, but I was lucky in that I didn't lose my speech and I am right handed so I could still write.
"Whatever happens in a stroke, it's horribly traumatic and everyone should have the chance to get equal access."
The Scottish Government has said pulmonary rehabilitation is a key priority. A spokeswoman said: "We expect NHS boards to provide high quality care that is safe, effective, person-centred and respects patients' rights."
Consistent access
The report calls on the government to ensure every survivor has consistent access to NHS rehab services as well as be attached to community groups to ensure the benefits of rehab are continued.
The charity is also urging the government to invest in more physiotherapists, occupational therapists, and speech and language services as well as a commitment that all survivors should have access to a specialist nurse for as long as it takes to recover.
Almost 40% of respondents said their mental health was affected by their health condition, this rose to nearly half for people who live in more deprived areas.
A total of 65% of people with chest conditions or strokes reported their ability to be physically active had been affected with 54% of people with heart conditions saying the same.
And about one in five people are not accessing a full range of support services because they don't know what's available to them in their communities.
Two thirds of people responded to say they want more access to services ranging from specialist nurses, GPs, therapists, and social support groups.
A Scottish Government spokeswoman said: "The delivery of health and social care services is at the core of protecting peoples' rights, and rehabilitation for chest, heart and stroke conditions are key to improving people's health and wellbeing.
"We want everyone to receive the best possible care and treatment from our health and care services.
"Our strategy for tackling strokes and heart disease is delivering important improvements, with mortality rates reducing by around 40 per cent for both stroke and coronary heart disease over the last 10 years.
"Pulmonary rehabilitation is already a key recommendation in our national clinical guidelines. We expect NHS boards to provide high quality care that is safe, effective, person-centred and respects patients' rights."