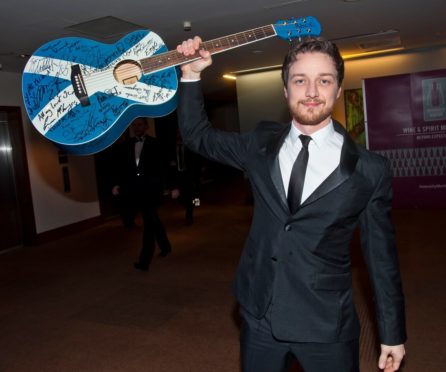 A guitar signed by dozens of Scotland's biggest names will be auctioned off in Aberdeen to raise cash for charity.
The instrument, which is emblazoned with the saltire, has been signed by 31 celebrities and will go under the hammer to coincide with the Chester Hotel's fine dining festival next month.
Sir Andy Murray, Ewan McGregor, James McAvoy, Sir Alex Ferguson, David Tennant, Sir Chris Hoy and Billy Connolly are among the household names who have autographed it.
The guitar has a minimum asking price of £20,000 and money raised will go towards Friends of the Special Nursery, which helps fund the the neonatal unit at Aberdeen Maternity Hospital, and the Friendly Access disability charity.
Glyn Morris, who lives in Forres, founded the charity and has spent the past six years persuading celebrities to sign the instrument.
Graham Wood, owner of The Chester Hotel, said: "We are incredibly grateful to Glyn, firstly for working so hard to gather all these signatures from some of Scotland's most talented and recognisable people, and secondly for agreeing to partner with us in this auction to benefit both charities."
A musical instrument also forms another of the star lots in the auction.
A piano dubbed The Lawman Piano, which was painted in tribute to Denis Law being granted the Freedom of Aberdeen and signed by the football legend, has a starting bid of £3,000.
Other lots include original paintings from artists John Byrne, Iain Faulkner and Alexander Miller, restaurant experiences, luxury hotel stays, and designer handbags.
People can bid online until November 30, at www.signaturefundraiser.com