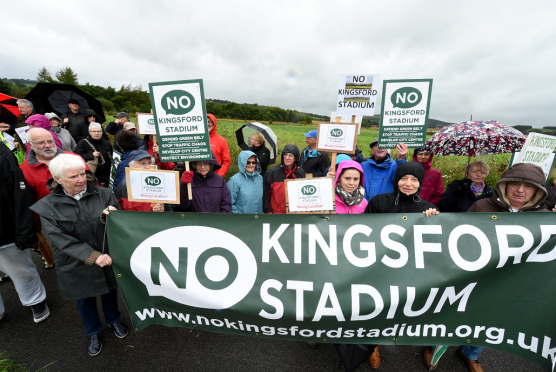 A substantive hearing to decide the future of Aberdeen FC's new £50million stadium will be held early next year.
The No Kingsford Stadium (NKS) campaign group is challenging the process by which Aberdeen City Council granted permission for the 20,000-capacity stadium on the borders of Westhill.
Work has already started on the expansive development after city councillors gave it their backing in January.
However, the NKS campaigners believe the site should not be the new home of the Dons, and have highlighted a number of concerns over the development's impact on the environment, local infrastructure, and more.
The organisation believes the city council "failed in its duty" to properly determine the application and launched a judicial review which will be considered at the Court of Session.
A procedural hearing will be held on December 19 before the substantive hearing on January 29-31.
Raymond Edgar, project director for the Kingsford project, said last night: "Three consecutive days are required for the substantive hearing and the end of January was the only date which suited all parties involved.
"This unnecessary and time-consuming legal process is frustrating and costly to the club, the council, the region's reputation and ultimately every taxpayer in Aberdeen.
"It's important to remember that there was extensive public consultation on our plans, and two pre-determination hearings before we secured planning consent.
"The Scottish Government did not call it in.
"We will continue with the work on site because, as we've repeatedly said, this small group of objectors cannot stop the project, they can only delay it."
As well as the new stadium to replace Pittodrie, Aberdeen FC also plans to build new training and community sports facilities, a heritage museum and dedicated facilities for the Aberdeen FC Community Trust at Kingsford.
Mr Edgar added: "In the unlikely case the court finds an anomaly in the process after the hearings, we will simply rectify and go through planning all over again to get the same result."
A statement from the NKS group said: "The NKS campaign has the support of thousands of local people – those most affected by the proposed stadium development at Westhill.
"In response to the statement by AFC, it is vital that the north-east is not only seen as a place to do business but also as a location where the rules are followed, and communities are protected from poorly placed and inconsiderate development – development without the infrastructure to support it – such as that proposed at Kingsford.
"There is no right of appeal for communities that object to developments therefore, where we believe the determination process was flawed, we must challenge the process legally and democratically, through the courts."