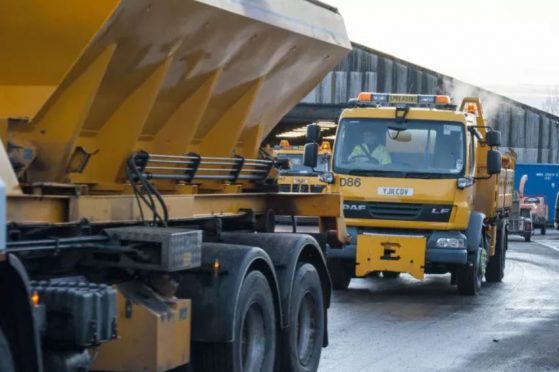 Gritters are expected to be out in force this weekend as a chilly snap from the Arctic sweeps the country.
Snow began to fall in the Cairngorms and on some Munros yesterday with further cold weather expected over the weekend.
Heavy flurries in Aberdeenshire and Moray forced police to close the snow gates on the A939 between Tomintoul and Cock Bridge.
A yellow weather warning has been in place across most of northern Scotland since last night, with forecasters warning that slushy snow and patchy ice could appear throughout this morning.
Met Office meteorologist Matthew Box said: "We've got a good northerly wind, which is bringing a flow of Arctic air across Scotland.
"That's giving us some showers, which could be heavy at times, but these will mainly fall as rain rather than snow."
Winter is firmly on its way as #snow is now falling over the #cairngorms around #Braemar and #Glenshee ski centre #Scotland @theglenshee @SeanBattySTV @visitabdn @VisitCairngrms @tweets_scotland @DeeTour_ @steamingboots pic.twitter.com/ooduHIwrBU

— Braemar Media (@BraemarMedia) October 26, 2018
It will be time for motorists to dig out their hats and scarves as well as their car scrapers, too.
The mercury is expected to plummet as low as -4C (25F) today, with frozen windscreens expected across the country.
And Mr Box said it could get even colder.
"With clear skies overnight we could see a minimum temperature as low as -6C (21F) in some of the more sheltered glens on Sunday morning," he added.
"Overall the temperatures will struggle to get past the high single digits, with a maximum of around 8C (46F)."
Dumping! ❄️?❄️?❄️#thisistoday #chunkyflakes #snow #winter #ski #snowboard #dumping

Posted by Glencoe Mountain Resort on Friday, 26 October 2018
While the weather warnings expire later this morning, showers of snow, sleet and rain will continue to fall – mainly on the east and west coasts.
Heading further into next week, the conditions are expected to dry up but remain chilly.
"It's going to be cold and there will still be a few showers, but there will be a fair amount of sunshine around," Mr Box said.
"We'll have that crisp winter sunshine that a lot of people enjoy.
"It will warm up slightly as well, with a max temperature perhaps creeping into double figures."
Temperatures due to dip below 0C overnight so our gritters will be out after 10pm and very early tomorrow morning on all primary routes (the main roads). You can find out the forecast at https://t.co/qEPEAZZThQ and more on gritting at https://t.co/XTrQe6q6ou. Please take care. pic.twitter.com/5rwz48vQK3

— Abdn City Council (@AberdeenCC) October 26, 2018
The sudden cold snap is expected to trigger a massive increase in the number of breakdowns this weekend.
Green Flag has estimated there could be as many as 39,000 over today and tomorrow.
Lucy Davies from the breakdown cover company said: "By thoroughly checking their cars before they leave home, and approaching the roads with caution, drivers can decrease the risk of encountering a problem on the roads this week."