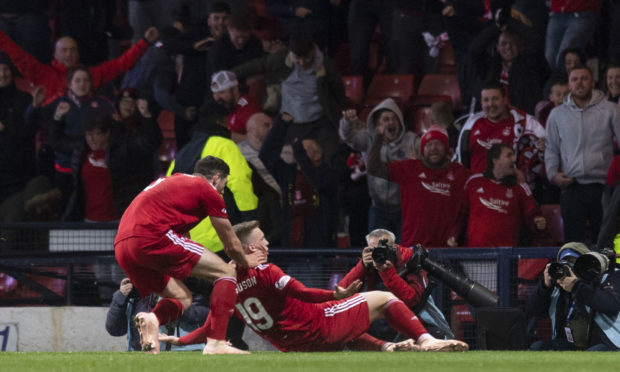 A Dons supporter has relived the frightening moment he was struck and wounded by an explosive device while celebrating the goal that sent his side to the League Cup final.
Findlay Mair travelled to Hampden Park in Glasgow on Sunday to watch Aberdeen FC's semi-final win over Rangers.
But just seconds after Lewis Ferguson scored the game's deciding goal in the 79th minute, an explosive was hurled from a section of Rangers supporters into a crowd of rejoicing Dons fans.
Mr Mair, who is from Lossiemouth, said the resulting bang "sounded like a bomb going off" and left him with burn wounds and a bleeding chest.
Oh, I'm bleeding from the chest. Lovely. Rangers taking defeat with grace as usual is it

— Findlay NightMair (@fin1991Official) October 28, 2018
The 26-year-old said: "It happened just about 30 seconds after the goal went in.
"I have gone back and watched it on TV since, and you can hear the noise it made.
"We were sitting right on the separation line between two rows of police officers, and someone launched it over from the Rangers side.
---
>> Keep up to date with the latest news with The P&J newsletter
---
"I noticed it land at my feet and it just exploded. It sounded like a bomb going off.
"We were barely able to hear anything for the rest of the game. Everyone was screaming at each other in order to be heard."
Mr Mair estimates that the blast affected "maybe two or three rows" of Aberdeen fans.
It was only after he returned to his hotel that he realised he had actually been injured by the projectile.
He added: "There is a patch on my chest where it has been seared by the explosion, which I am now treating with burn cream."
Aye just a bit of blood lost. Sore chest. Very mild burns I think. Couldn't hear for last 10 mins. Launched at us from neighbouring Rangers end.

— Findlay NightMair (@fin1991Official) October 28, 2018
Police later visited Mr Mair's hotel room to take a statement and advised that the item which had been hurled was a "flashbang" – which is designed to disorient people's senses by producing a blinding flash of light and delivers an intensely loud bang of more than 170 decibels.
However, Mr Mair refuses to let the troubling experience tarnish what he described as a monumental win for the Dons.
He said: "I am still smiling, it was an amazing feeling seeing that goal go in."