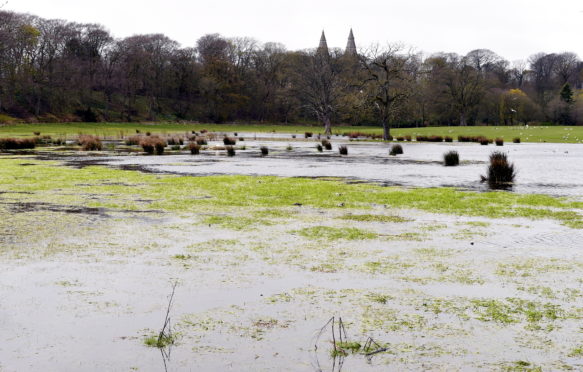 A man had to be rescued by the emergency services after becoming stuck in an urban "swamp" while walking through an Aberdeen park.
The 42-year-old got into difficulty while crossing the wetlands in Seaton Park and was pulled to safety by specialist paramedics.
A passerby had heard the stricken man's cries for help and dialed 999.
The shivering individual was taken to Aberdeen Royal Infirmary to be checked over, though his condition was not thought to be serious.
The chairwoman of the Friends of Seaton Park group, Sheila Gordon, said she was "lost for words" as to how the man may have ended up in the predicament.
She said: "This is very unusual It is the first time I have ever heard of anything like it.
"I can't think how he could have ended up wandering into the wetlands, even in the dark, as it should be quite obvious what is there.
"There is a viewing platform, different plants and a gradual slope down to the marshy area."
The emergency services were called to Seaton Park at about 10pm on Monday.
It is understood that the concerned member of the public who heard the man shouting was able to point the rescuers to his rough location near the Don Street entrance to the park.
Two fire crews from North Anderson Drive attended, along with a water rescue unit from the city's Central Station.
Another water rescue team was called from Kingsway Station in Dundee, but was stood down before reaching Aberdeen as it became clear local crews had the matter under control.
A spokeswoman for the ambulance service confirmed that its "specialist operations team" pulled the stricken man from the quagmire.
She said: "These paramedic teams are specially trained to deal with difficult extractions, such as water rescue.
"They have specialised equipment to aid with these types of jobs."
It is understood that the 42-year-old did not come to any serious harm but was "cold and wet" when removed from his predicament.
A £90,000 project to transform the park's wetlands area into a visitor attraction was completed in 2016.
The scheme included digging out the wetland, repairing drainage, adding paths, installing signs and planting flowers.