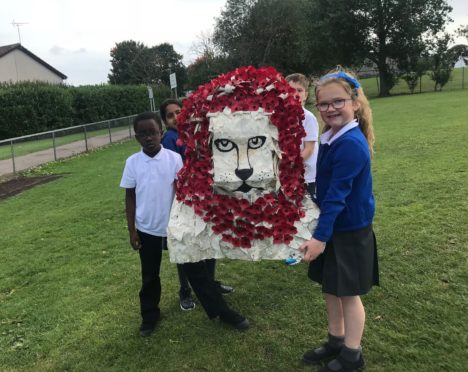 Bridge of Don schoolchildren, volunteers and councillors gathered yesterday to launch a series of events commemorating 100 years since the end of the First World War.
Yesterday's Service of Remembrance was organised by Bridge of Don Remembers, a group made up of local schools and churches in the area, and the Old Machar branch of the British legion.
The service, which took place at St Columba's Church of Scotland, was attended by representatives from Legion Scotland, local councillors, MPs and other local groups.
For the opening event, school children from nine local schools lay wreaths, gave readings and sang songs in front of a packed hall.
The pupils have worked tirelessly in the weeks leading up to November 11, creating their own poppy art inspired by what they have learnt about WWI.
The artwork from each of the nine schools will go on display in Bridge of Don churches, alongside exhibits of research conducted by pupils with the help of Sandy Riddell, the St Machar Cathedral Archivist.
The week of activities will culminate in on Remembrance Sunday, exactly 100 years since peace was declared across Europe following the end of the war, which will take place at the Bridge of Don War Memorial at 10.50am.
A spokesman for Bridge of Don Remembers said: "With so many from the community involved in this project, links have been created across generations, learning from one another and the stories of the lives and deaths of those names on the war memorial have been remembered and shared.
"In this 100th year since the end of WWI it is important to remember as a community."