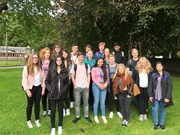 Budding doctors from rural communities and disadvantaged backgrounds have been given the chance to study medicine after joining a pilot scheme at Aberdeen University.
Health Secretary Jeane Freeman revealed yesterday that 40 out of the 42 students who took part in the new "pre-med" entry programme at Aberdeen and Glasgow universities had completed the course in its first year.
They will now go on to study medicine and as a result of the success of the scheme it will be expanded to 50 places at the two universities from next year.
The initiative aims to give students from disadvantaged backgrounds, as well as those from remote and rural areas, the experience and qualifications to prepare them to meet the entry level requirements to study medicine at university.
Aberdeen and Glasgow universities shared £330,000 of funding to support the project in 2017/18 and funding has already been committed to continue it in 2018/19.
Erraid Davies, from Shetland, was one of the Aberdeen University students, and said: "This was an invaluable experience. It acted as a perfect stepping stone from school to medicine."
Another student, Rachchya Shrestha, from Stornoway, added: "Gateway to Medicine has been a very rewarding experience and not only has it given me the opportunity to start a career in medicine, but I've also made lifelong friends."
Professor Steve Heys, head of the School of Medicine at Aberdeen University, has been "delighted" with the results of the programme.
"The high proportion of those going on to study medicine here at Aberdeen is testament to the high quality of our applicants," he said.
"I'd like to thank the Scottish Government for their support towards this initiative that aims to help our young people, from both urban and rural backgrounds, to become Scotland's doctors of the future,"
Ms Freeman said that a 95% course completion rate was an "incredibly promising start to what is a new approach to widening access to our medical schools".
She added: "This course contributes to our commitment to widen access to higher education and enhances the range of medical education already available in Scotland's five world-leading medical schools.
"I'd like to congratulate these students and wish them every success with their studies and future careers."