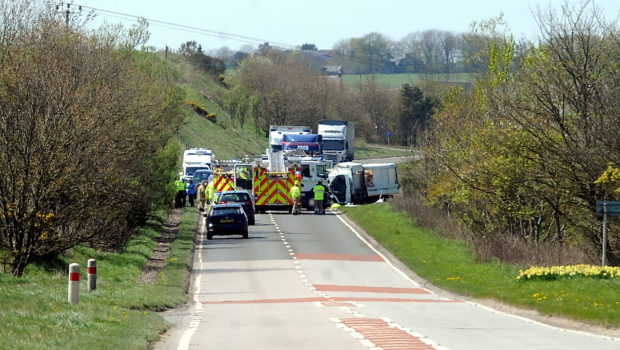 A driver who claimed he was affected by leaking gas in his van when he killed an Aberdeenshire bin man has walked free from court.
Craig Ross, 29, ploughed head-on into William Buchan's council vehicle in May 2016.
The tragic 48 year-old victim never survived the crash on the A90 near Hatton, Aberdeenshire.
Engineer accused of causing death of north-east refuse collector says he has no memory of the collision
Ross went on trial with his lawyer lodging a special defence of "automatism" claiming he was not responsible for his actions at the time.
It was alleged the fridge engineer had breathed in a harmful gas that escaped from canisters in his van.
But, he was convicted of causing death by careless driving following a trial in Aberdeen last month.
Ross faced jail as he appeared for sentencing today at the High Court in Glasgow.
However, Lord Burns said after "considerable reflection" Ross would instead carry out 275 hours of unpaid work as part of a community payback order.
The judge added: "You gave an explanation at trial about being overcome with gas and that was plainly rejected by the jury".
Ross, of Aberdeen, was also banned from the road for four years.
Jurors heard Ross had been on his way to give a health and safety talk at a supermarket when the crash occurred.
He struck Mr Buchan's vehicle after going onto the wrong side of the A90.
Ross told the trial that there had been a gas leak in his van and he stopped to seal a canister.
He insisted he then had no memory of what then happened.
His lawyer told jurors that a person could be affected by accidentally inhaling the gas.
Jonathan Crowe, defending, added: "Would you want to be in that van given what we have heard about the effects?
"We have heard that it can cause drowsiness, dizziness, lower reaction times and more."
But, prosecutors instead stated claims of a leaking gas bottle had been "made up".
Ross had originally faced an allegation of causing death by dangerous driving before being convicted of the lesser charge.