A horrified Aberdeen family looked-on in horror last night as fire tore through their home.
They took refuge with neighbours as fire crews battled to contain the blaze in the city's Bucksburn area.
Nearby roads had to be closed and their was significant congestion as the emergency services worked.
Fortunately no-one was injured but the house sustained severe damage and investigators will visit today in an effort to establish the cause.
A call was made to the fire service at 4.44pm and within an hour the fire, on Bankhead Road, was described as "well-established," having spread to the property's roof.
Fire crews remained on the scene for around two hours, during which time "significant" damage was done to the property.
Meanwhile, the occupiers of the house were being comforted by friends on the street.
Fire officers sectioned off the property and police implemented traffic management measures in the immediate area, causing long queues on the A947 and Old Meldrum Road.
Station manager Graeme Laird took the opportunity to urge people to make sure they have a working smoke alarm at home.
It was a smoke alarm which alerted the occupiers of the house to the fire, allowing them to escape the building unharmed.
He said: "The crews were called to a significant fire in the ground floor of the property in Bankhead.
"It was a well-developed fire when the crews got here. We had four working at the height of the fire."
"We are now looking into investigating what the cause was – at the moment we have no idea whatsoever.
"The extent of the damage to the property is considerable, certainly to the ground floor bedroom, and we will be carrying out a full investigation.
"The one thing I would say once again is the benefits of having a working smoke alarm, because a smoke alarm alerted the family to the fire.
"Please take up our offer of free fire home safety visits.
"A working smoke detector saves lives, as we have seen here."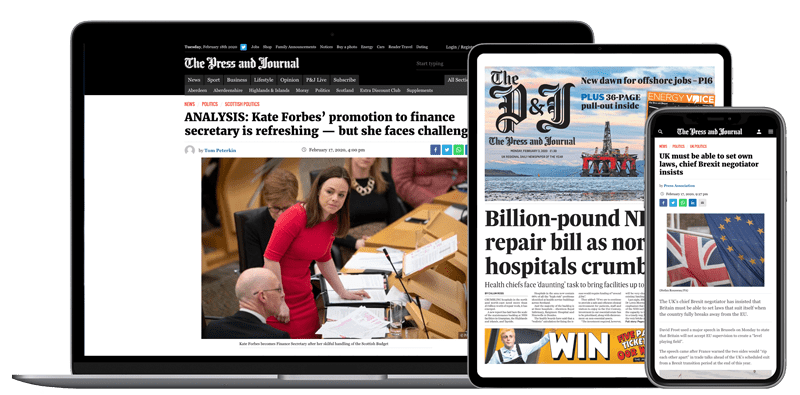 Help support quality local journalism … become a digital subscriber to The Press and Journal
For as little as £5.99 a month you can access all of our content, including Premium articles.
Subscribe