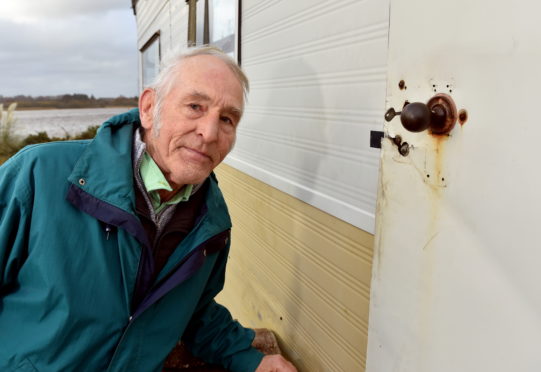 A fisherman who claims a specially protected loch in Aberdeen has been polluted by AWPR construction has been robbed of his findings in a mysterious raid.
Ian Muir owns the fishing rights to Corby Loch, near Bridge of Don, and believes sediment from the construction of the £750 million bypass has polluted the loch – one of only four legally protected Sites of Special Scientific Interest (SSSI) in the city.
He previously revealed that in August he discovered thousands of dead fish floating in the water around the 32 acre site, and said no fish have been caught there since.
---
>> Keep up to date with the latest news with The P&J newsletter
---
The Press and Journal recently reported his plight in a front page story on October 30, including details of his water samples and the diary of his findings.
Aberdeen angler claims the AWPR has killed thousands of fish in a nearby loch
But the tale has now taken a strange twist as the caravan on the lochside, which Mr Muir uses as a base, has been broken into.
The thieves ignored the expensive fishing equipment and radios and only stole Mr Muir's diary and a copy of the P&J with the front page story.
He said: "I have been keeping that diary detailing the pollution for years, but I came in on Monday to find it gone.
"They ignored my transistor radios and all the expensive fishing equipment which means that I think it must be connected to the story being in the press.
"I don't know if they want to stop me speaking about it. We have reported it to the police."
Last night a police spokeswoman confirmed the break-in had been reported and that officers were making inquiries.
She said: "The incident appears to have taken place between 2.30pm on Sunday and 3pm on Monday. A quantity of stationery was stolen."
Bridge of Don councillor John Reynolds said: "In an ordinary burglary they will steal high value items to sell.
"It sounds like someone doesn't want his information to become public."
Corby Loch and neighbouring Lily Loch were given the SSSI designation in October 1983.
Last night SEPA confirmed their investigation into the possible pollution is continuing.
James Smith, Sepa Unit Manager in Aberdeen said: "Every day SEPA works to protect and enhance Scotland's environment. We have not received any further reports relating to fish mortalities since investigating the deaths of juvenile sticklebacks in August, which we were unable to ascribe to any specific cause.
"We are aware of concerns relating to increased quantities of silt arriving at Corby Loch, and are investigating in partnership with Scottish Natural Heritage.
"We encourage anyone who has concerned about a potential pollution incident to contact our 24 hour Pollution Hotline on 0800 807 060 or online via www.sepa.org.uk/report. Getting information quickly allows us to begin investigations."
A Transport Scotland spokesman said: "We have not received any complaints or contact from SEPA or SNH and see no reason why this story should be connected to the AWPR site."
North-east MSP visits the loch
North East Conservative MSP Peter Chapman visited the loch yesterday to meet the owner and the angler who first raised the alarm about possible pollution.
A consortium of local anglers have been fishing on the loch for decades, but it is claimed that nothing has been caught since thousands of dead fish were reported floating in the water.
Mr Chapman has now written to Scottish Natural Heritage, which manages SSSIs, the Scottish Environmental Protection Agency (SEPA) and AWPR contractor consortium Aberdeen Roads Ltd.
He said: "I was not aware until visiting the site that Corby Loch is designated as an SSSI.
"This makes the reports of pollution linked to the AWPR all the more serious.
"These sites are protected by law, and for good reason.
"The owner and the anglers are clear that problems are linked to previous pollution from the AWPR site, but they also fear there will be ongoing difficulties in the future due to the close proximity of the loch to the bypass.
"I have written to SNH, SEPA and Aberdeen Roads Ltd as we need to get to the bottom of this and take whatever remedial action needed to improve the situation and try to prevent any further issues.
"We all want this road to be finished and open to traffic, but the environmental impact must be managed and any damage limited as much as possible."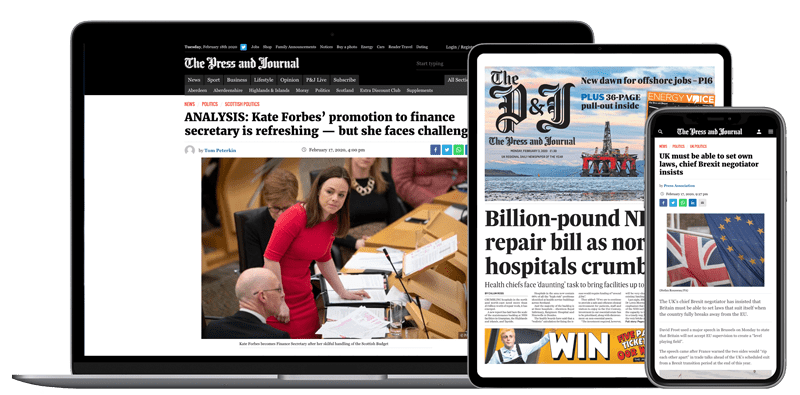 Help support quality local journalism … become a digital subscriber to The Press and Journal
For as little as £5.99 a month you can access all of our content, including Premium articles.
Subscribe