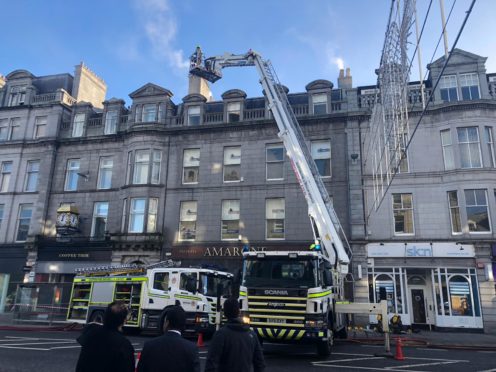 Dozens of firefighters tackled a fire under an Aberdeen restaurant on Saturday.
Emergency crews had to close a large section of the city's Union Street while they tackled the "well-developed" fire in the basement of Italian restaurant Amarone.
It is thought it was started by a tumble dryer or other electrical appliance but investigations into the exact cause are ongoing.
Initially two fire engines were sent to the scene at around 10.30am. But by the peak of the blaze this had increased to nine engines, two incident support vehicles and a height appliance.
An ambulance support vehicle was also in attendance but it was later confirmed that no-one had been hurt.
Nearly 30 firefighters could be seen working on the street outside the restaurant, many carrying breathing apparatus and oxygen tanks so they could safely explore the building.
At one stage crews could be seen using a cherry picker to inspect the building's chimney, which also had smoke billowing from it.
It is understood that while parts of the building suffered extensive smoke damage, it remained structurally sound.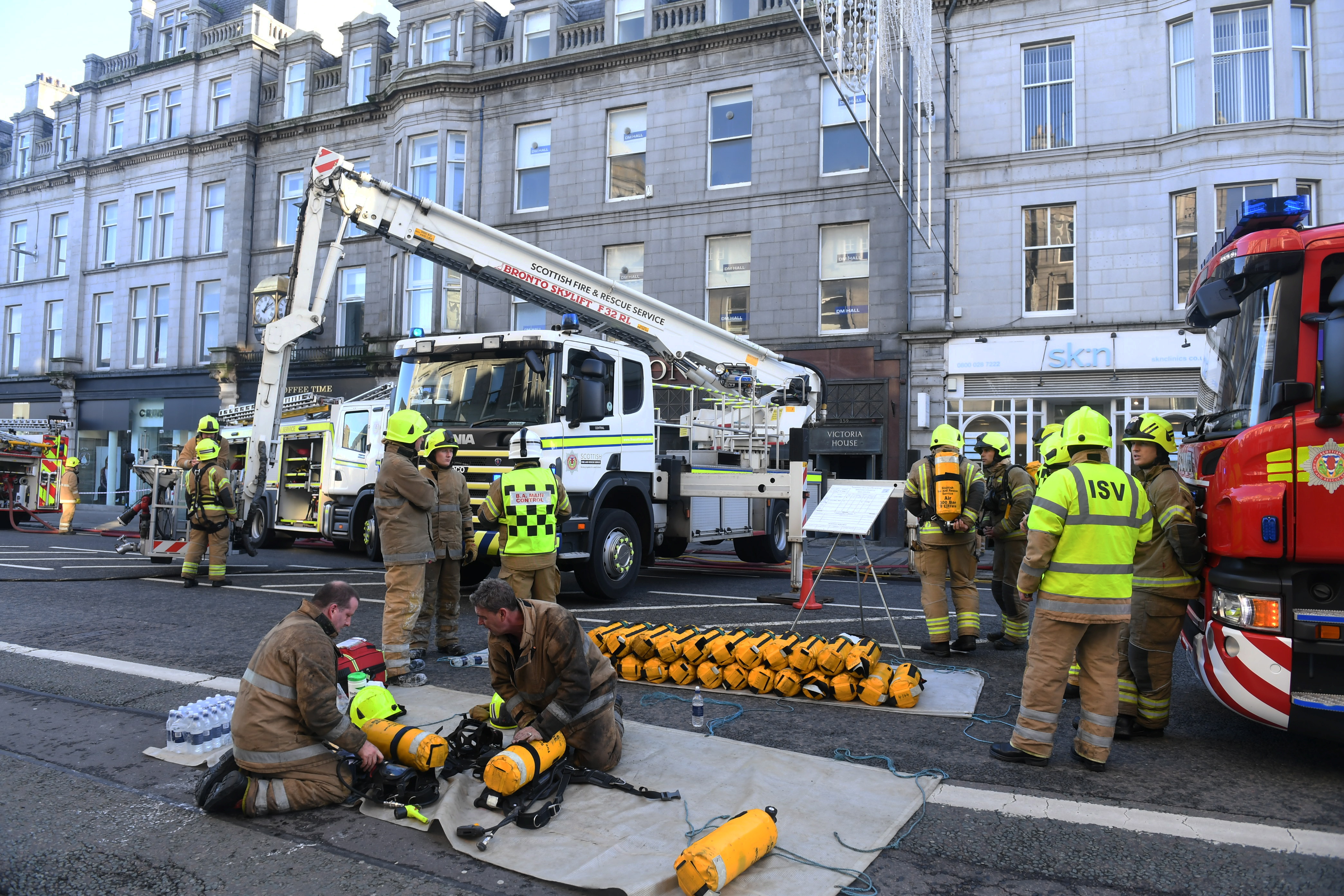 The restaurant, the flats above it and the restaurant's neighbouring properties were all evacuated after the fire broke out.
Their inhabitants were allowed to re-enter at around 4.30pm.
Police blocked off Union Street from its junctions with Bon Accord Street and Dee Street to allow space for the emergency vehicles and equipment, and for the fire-fighters to work.
They also closed Langstane Place to seal off the rear of the building.
The last fire crews left the scene at around 8.30pm, but returned several times overnight and yesterday to ensure that the fire had not re-ignited anywhere.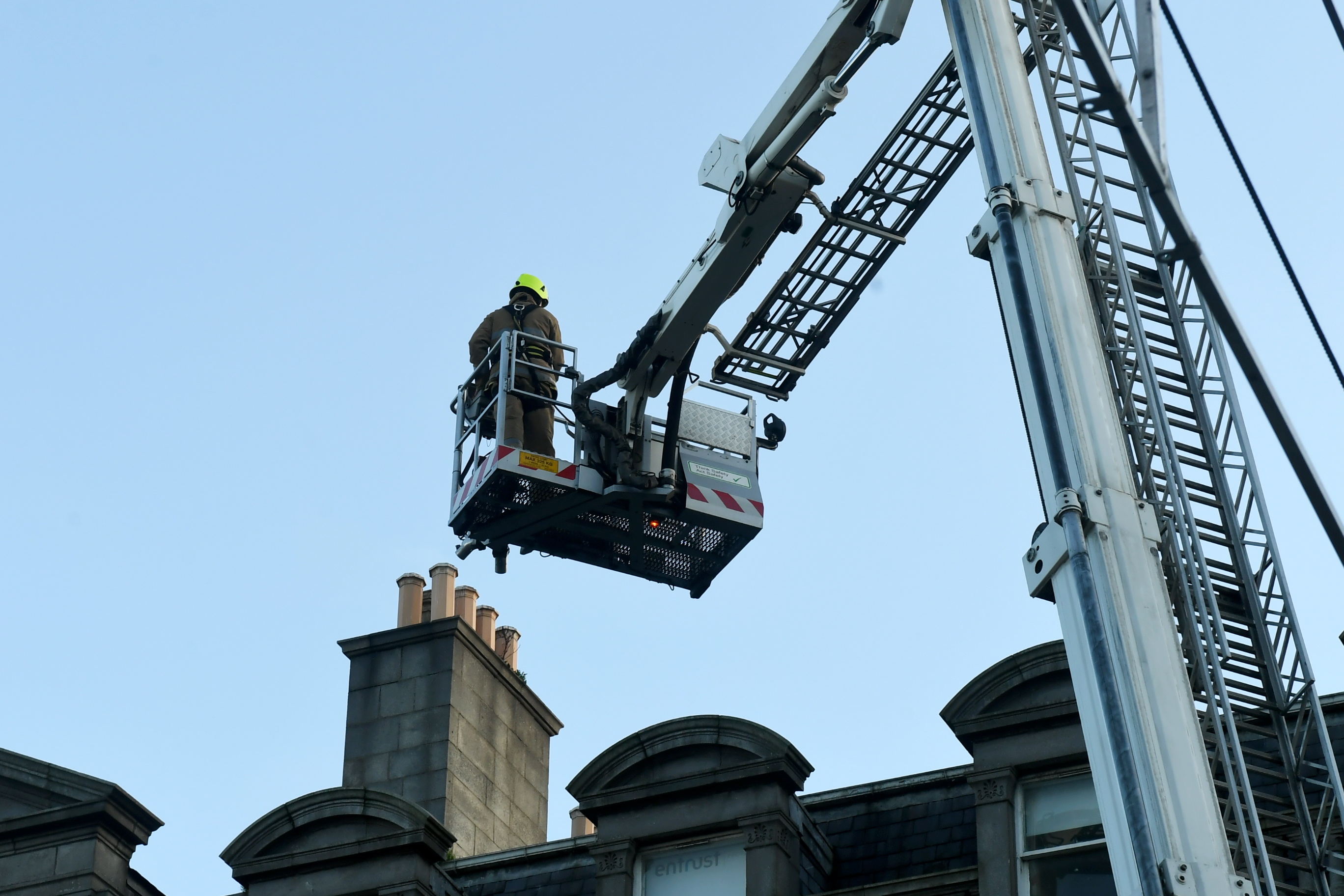 Local councillor Alan Donnelly said: "You could see that there was a lot of smoke damage inside the restaurant but I've been told there's no major damage to the structure of the building.
"I'm pleased there were no fatalities and that the fire was caught pretty quickly.
"It could have been a lot worse so we have a lot to be thankful for."
A spokeswoman for DiMaggio Restaurant Group, which owns Amarone, said: "Thankfully no-one was injured in yesterday's fire which broke out before opening time.
"We'd like to thank the emergency services for their response.
"We have a team in place ready to assess and repair the damage as soon as the fire service has completed its investigation into the source of the fire.
"In the meantime, we will endeavour to accommodate people who have made reservations at our sister restaurant, Cafe Andaluz."