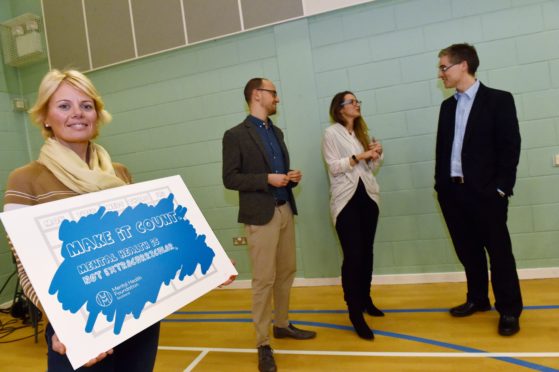 A national mental health charity met parents and teachers at a special event this week to discuss how emotional well-being is handled in schools across the country.
Around 100 parents and teachers gathered at Hill of Banchory School to hear from the Mental Health Foundation Scotland (MHFS) and to discuss how early preventative measures could benefit youngsters.
Earlier this year, mental health waiting times for young people in Grampian were revealed to be the longest in Scotland, with some teens and youngsters facing waiting periods of up to six months just to get an appointment.
---
>> Keep up to date with the latest news with The P&J newsletter
---
Banchory mum Sharon McCann, whose eight-year-old son was offered Prozac to treat his emotional struggles, was one of the organisers of the event.
She has backed the foundation's call for mental health training to be given to all secondary and primary teachers, and argued that by catching warning signs as early as possible, it could lead to reduced stress placed on NHS Grampian's child and adolescent mental health services (CAMHS).
MHFS's Make It Count campaign has also called for mental health to become a key part of the curriculum, on the same level as literacy and maths.
Mrs McCann said: "Going by how many people turned out, I think we're all starting to wake up and realise that early intervention really is the way to go.
"My son struggles with anxiety and has since he was very young, and has been in the CAMHS system since the age of eight, so that's why from my own personal perspective I'm pushing to advocate for a more school-based approach.
"We want to give teachers and staff the confidence and skills to deal with these issues.
"We don't want to put 100% of the responsibility on schools, but what we do want is support to be available in schools if it is needed."
Toni Giuliano, policy manager at the Mental Health Foundation, said: "The curriculum for excellence is all about literacy, numeracy, health and well-being, but the truth of the matter is health and well-being are not taught with the same commitment, because exam results are seen as the best measure of academic performance.
"What we're saying is that it's time to start measuring health and well-being in our classrooms, and keeping record of how every child is progressing."
He called for teachers to be given basic mental health training while at university, and for existing staff to get training every year focusing on mental health.
"Prevention needs to be at the heart of this," he said. "We need teachers who are well trained and able to have these conversations.
"Our campaign is calling for PSE lessons at school at a minimum of one hour a week, with half of those classes dedicated to building emotional resilience.
"We want these classes to explore exam stress, body image, relationships, pressures from social media, bereavement, and just how to cope and handle difficult situations that can lead to mental health problems such as anxiety.
"If we can show young people how to handle and avoid these situations, we will avoid more children entering into crisis and putting even more pressure on CAMHS across the country."