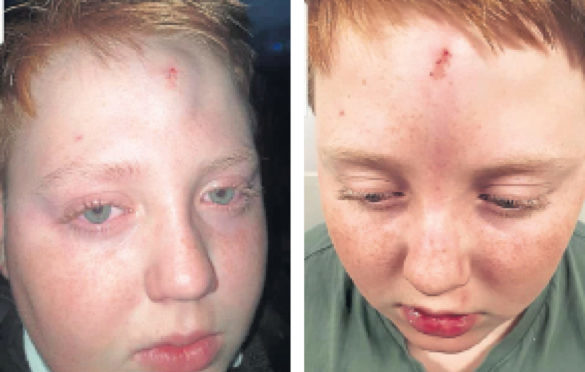 A young boy has spoken out after he was subjected to a brutal assault on his way home from an Aberdeen school.
Struan Clubb, 14, had his head struck off a lamp post and suffered concussion as a result of the attack, which took place in daylight.
The assault began behind Bridge of Don Academy on Tuesday shortly after the lessons finished for the day.
It continued for some time, until it escalated between Scotstown School and Bridge of Don Library.
It was at this stage, around 4.10pm, that a woman from within the library noticed the disturbance and intervened.
She led the injured boy inside the library building and to safety.
Struan's mother, Lisa Gibb, took him to the emergency room at Aberdeen Royal Infirmary, where he was treated by medical professionals.
She is now appealing for any witnesses to the incident to come forward and assist police with their investigations and hopes the lives of bullying victims, such as Struan, can improve with intervention.
---
>> Keep up to date with the latest news with The P&J newsletter
---
Ms Gibb said: "It was right beside the local shops and would have been seen by a lot of people.
"The worst part is that my son made eye contact with one man, who just turned away and kept walking. Both adults and children walked past him and didn't help."
According to his mother, the 14-year-old has been victim to bullying incidents for years.
She said: "Struan has been bullied since Primary School, but it has escalated since S1, with constant daily harassment, being ostracised and verbally abused, along with physical assaults.
"This is our daily life. He can't take it anymore. I can't take it anymore.
"Struan does not feel safe in school, or walking to and from school, he has only recently started walking with friends, he used to have to be chaperoned there and back.
"Struan's mental health has suffered greatly.
"He suffers from anxiety and depression, he can't sleep at night before school and every day it's a struggle to get him to leave the house.
"My son was a confident, happy, friendly boy who loved life and threw himself headfirst into everything he did.
"Now, he won't leave the house without someone with him and has absolutely no interest in doing anything but sleeping, so he can escape the pain."
A council spokeswoman said: "We cannot comment on individual cases but parents can be assured we have robust policies and procedures in place to deal with bullying.
"Any accusation of bullying is investigated and appropriate action is taken, including involving police if necessary.
"We will continue to encourage pupils and parents to work with teachers, support staff and other partners within the anti-bullying policies in place at our schools."
PC Kirsten Scobie said: "Police Scotland is carrying out enquiries following the report of an assault on a 14-year-old boy in the Bridge of Don area at around 4pm on Tuesday November 13.
"We would ask anyone with information or who witnessed the incident to call police on 101."
The action councils have taken to clamp down on bullying
In the wake of one of Scotland's most prolific school bullying cases in 2016 – in which Bailey Gwynne was stabbed to death over a row about a biscuit – local authorities took drastic action to prevent anything similar happening again.
In June 2017, Aberdeen City Council adopted a new anti-bullying strategy which vowed to train a senior teacher at every school to respond to complaints of bullying and agree outcomes with parents, among other preventative measures.
Yet since then, bullying in schools has continued to be a problem across the country.
ABERDEEN
Just over a month after the anti-bullying strategy was put in place, distressing footage was unveiled showing a gang of youths chasing a frightened child down Great Northern Road.
In the video, a 14-year-old girl was seen pleading for help as the bullies laughed at her distress.
One of the gang then smashed the girl's phone on the ground before launching a physical attack, grabbing her hair and repeatedly punching her in the face.
At the time of the incident the child's mother said the video "broke her heart".
Speaking to the Press and Journal she said: "She comes home with snapped glasses or a bloody nose but I'd never seen it for myself until I watched the video.
"My friend sent me the video and I was just heartbroken. It was disgusting to watch. I broke down in tears."
ABERDEENSHIRE
This February, four teenagers were charged with hate crimes involving the racial abuse of fellow pupils at an Aberdeenshire school.
The woman who reported the alleged incidents told the Press and Journal she was shocked and distressed at the racism she had encountered in recent months.
She revealed this included the victims repeatedly being targeted with racial slurs.
"Where are the parents in all of this?" she asked.
" Where do children in 2018 get these views?
"Are these hateful attitudes actually representative of Scottish sentiment?
"As uncomfortable as this might make us feel, there are some serious questions that we need to ask ourselves.
"When the school has exercised all their powers and the police have made formal charges, the responsibility lies with the parents."
MORAY
This summer an improvement plan was drawn up after it was revealed that a third of parents at a Moray school had concerns about how bullying was being tackled.
Inspectors made the finding after sending out questionnaires during a recent visit to Portessie Primary School.
Although most children were found to feel safe when attending class, a few of the youngsters reported that bullying has impacted on their wellbeing.
Buckie councillor Tim Eagle said: "There are a lot of positives at the school but it's also concerning to hear that 33% of parents thought bullying was an issue and was not being dealt with.
"I know these are isolated incidents but parents have come to me about bulling to ensure that something will be done to address it for the new school term."
Inspectors suggested that staff at the school would benefit from looking at new national guidance about bullying to help improve procedures and the way incidents are recorded.
HIGHLANDS 
A significant police probe was launched after claims were made that a nine-year-old girl was knocked unconscious after having her head smashed against a hand-drier.
Glen Mason reported the alleged assault on his daughter Skye to police and staff at both North Kessock Primary and Highland Council and claimed the complaint had not been taken seriously.
He said: "Skye has been subjected to bullying at the school for the past two years, but I just keep getting fobbed off.
"She was given no medical treatment apart from an ice pack on her head. I took her to the doctor after she came home, who said she was concussed, so I kept her off school."
ISLANDS
In May of this year, a Highland minister claimed that schools across the region were becoming "increasingly hostile" environments for Christian pupils.
The Rev Alasdair Macleod made the comments as Skye, Lochaber and Badenoch MSP Kate Forbes revealed she had been approached by families in her constituency for the first time about the bullying of children over their religious beliefs.
The Rev Macleod said: "It feels to me that schools are becoming an increasingly hostile environment for Christian pupils and this hostility must stop.
"Bullying, mocking or intimidation towards pupils on the basis of their Christian faith is unacceptable and needs to be recognised as such.
"Based on my own pastoral experiences there would certainly appear to be a growing problem of intolerance towards Christian pupils which authorities need to address."
To find out more about how to combat bullying in schools, click here.