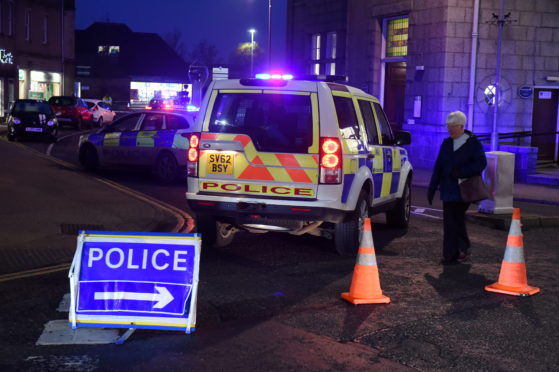 Three people were taken to hospital after a car crashed into pedestrians in a north-east town yesterday.
The three female pedestrians – aged 76, 54 and 40-years-old – were struck by a vehicle on Burn Lane in Inverurie shortly before 3pm.
Their injuries are described as serious.
The car driver, an 82-year-old man, received minor injuries and was released from hospital.
Sergeant Andrew Meikleham of the road policing department said: "Anyone who witnessed the collision or who saw the silver Ford Fiesta beforehand, is urged to contact Police Scotland on 101, quoting reference number 2280 of November 16, 2018.
"The road was closed for several hours while emergency services attended the scene but has now reopened and we pass on our thanks to road users and local people for their patience during this time."
The car is also thought to have collided with two other vehicles parked on the busy road  outside Davidsons Butchers.
A passerby said: "I heard that a car mounted a pavement and hit some people, before crashing into the parked cars.
"Burn Lane can be quite dangerous.
"I got hit myself on Constitution Street two years ago, not too far from here, as I was walking my dogs – I had a lot of injuries."
Police closed off the area to traffic for several hours last night as investigations were carried out.
The windscreen of one of the cars involved was smashed with shards of glass lying on the street.
Officers removed one of the motorist's personal belongings from the silver Ford Fiesta.
Police were called to the incident shortly before 3pm, alongside an incident support unit, firefighters and paramedics.
A police spokesman said: "It appears to have been a medical matter with one of the drivers.
"An ambulance was in attendance and took a number of pedestrians to hospital."
Shocked passers-by congregated behind the police cordon as congestion built up on nearby roads.
The area was busy at the time with commuters heading home from work.
A Scottish Ambulance Service spokesperson said: "We received a call at 1458 hours today to attend an incident on Burns Lane in Inverurie.
"We dispatched three ambulances, our special operations team, a Paramedic Response Unit and a manager to the scene. Three people have been transported to Aberdeen Royal Infirmary."
Several residents told how they believed the lane to be "dangerous" for pedestrians because of the tight bend at the junction reducing visibility for motorists.
Parking spaces line one side of the road often leaving the stretch effectively a one way street.
Councillor Lesley Berry, for the Inverurie and District Ward, said she hoped everyone injured made a full recovery.
She said: "This is a horrible situation to be in for all those involved.
"I live in the centre and saw the emergency services drive past.
"Slowly but surely the picture emerged, and I later heard three pedestrians had unfortunately been hit.
"I hope they all make a full recovery, including the driver.
"We had an incident a few years ago when a driver took ill at the wheel in a car park – but fortunately no one was hurt in that situation, and the car was stopped after running into various bollards and traffic signs."
Colin Clark, MP for Gordon, added: "This must have been very traumatic for the victims and onlookers.
"My thoughts are with those injured and their families.
"On behalf of the community I would like to thank the emergency services."