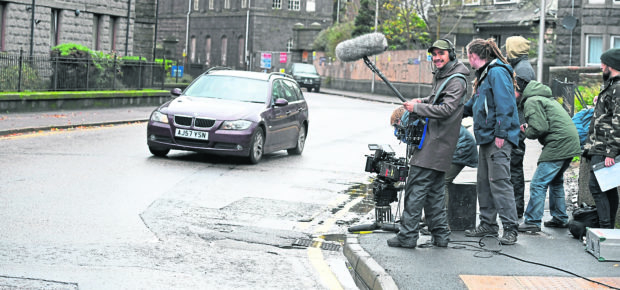 It is an Aberdeen street long associated with boy racers speeding along in modified cars.
But this week the Beach Esplanade will be closed for the filming of a high speed chase of a different sort.
Lights, cameras and actors will descend on the street this Friday for a high octane action scene as the shooting for the new thriller Marionette continues.
Various parts of the road will be closed between 7am and 3.30pm on the day.
Camera crews have been spotted all over the Granite City recently for the major production, which features Peterhead actor Peter Mullan and Thick of It star Rebecca Front.
Rosemount Viaduct, Skene Street, Summer Street and Shore Lane have all been used as the backdrop to scenes for the psychological thriller.
Plot details are being kept under wraps, but it involves a therapist, played by Dutch actress Thekla Reuten, who loses her grip on reality when a 10-year-old boy claims he can control her future.
---
---
Principal photography for the production started last month in Luxembourg before moving to Scotland. The Aberdeen filming is expected continue until December.
Concerns have been expressed over the closing of the major city road on "Black Friday"- a time when many beach retailers will put on deals ahead of Christmas.
But Ed Smith, location manager for the film, said that the road had to be chosen to avoid closing more major routes and that it was the only place to film their "high speed chase scene".
He said: "Unfortunately,  the sea won't be featured.
"It's a long, wide road that allows us to do the action scene we need to do is the boring answer frankly.
"We need to film a high speed chase scene and we need a major road. The only other He added: option would be to close a major trunk road.
"We have really enjoyed filming in Aberdeen.
"The people and the local authority have been very helpful."
Last night Tillydrone, Old Aberdeen and Seaton councillor Alex McLellan urged shoppers to plan ahead.
George Street and harbour councillor Michael Hutchison said: "I'd encourage people to plan ahead as best they can.
"The scheduling could perhaps have been coordinated better but it's not often we have films shot in the city."