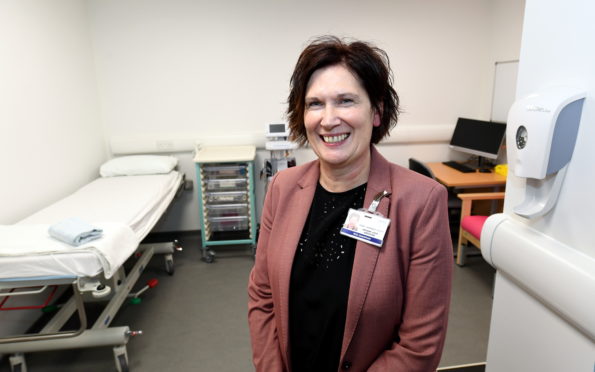 For decades the traditional medical model for those undergoing scheduled surgery has been to spend the night before in a hospital bed.
In many hospitals, however, it has contributed to unnecessarily full wards and for many patients the result has simply added to the stresses and strains of awaiting procedures.
Now NHS Grampian has decided to abandon that way of working in what has been hailed as the biggest change to the way patients are taken into hospital for a procedure in many years.
The creation of a new specialist unit at Aberdeen Royal Infirmary will ensure those attending for surgical procedures do so on the day of their operation rather than face a pre-operation overnight stay.
The innovation will result in tens of thousands of patients across the north-east spending more time in their homes and less time in hospital.
The Department of Scheduled Admissions (DoSA) was officially opened yesterday, though the concept has already been through an extensive trial and received positive feedback from the public and medics alike.
---
---
A further benefit is that the unit is located next to the hospital's operating theatres, meaning patients will only have to travel a short distance after making their way in.
Professor Amanda Croft, the interim NHS Grampian chief executive, opened the unit and said "unnecessary stays" would be cut out.
She said: "There is no doubt it was a big step to take but the feedback from our patients has shown that it was clearly the right thing to do.
"Not only is this the most effective and least disruptive way of doing things for the hospital, it is a lot more convenient for our patients and cuts out unnecessary stays the night before surgery or procedure.
"It is anxious for some patients to be have another night away and they are often worried about children.
"Now they do not have to come in until the day of the procedure."
And Alan Cooper, the acute improvement manager for the health board, said people had responded well during the pilot.
He said: "We've already seen hundreds of patients throughout the pilot period and during the time we have been based in our temporary accommodation the feedback has been overwhelmingly positive.
"We took an honestly look at the traditional ways of working and this jumped out as something that really needed to change.
"Clearly patients staying for an extra night in hospital unnecessarily wasn't good for them or hospital capacity.
"The Department of Scheduled Admissions just made good sense."