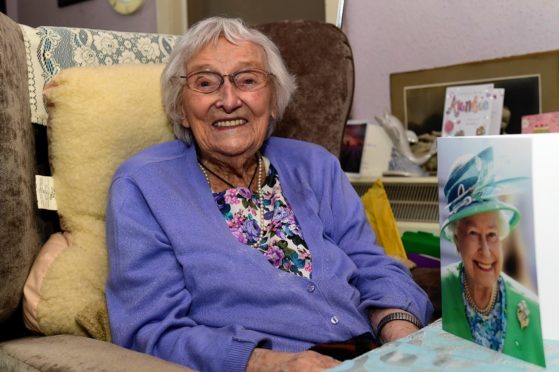 Marjorie Burton, who was the oldest woman in Scotland, has died in a Banff care home, aged 109.
Born in Wiltshire in England on August 23, 1909, she went on to enjoy a fascinating life in the north-east of Scotland.
The former medical research worker travelled to Aberchirder in Aberdeenshire, 30 years ago, after the death of her husband William and her only son David.
Following a brief spell living with her sister in Aberchirder, she decided to buy her own house, in which she lived independently until October.
Mrs Burton relocated to Durnhythe care home in Banff last month, where she died last week after a short battle with pneumonia.
Grieving relatives paid tribute to the "incredible" great-gran of two.
Speaking to The Sun, her nephew Keith Baugh, 68, said: "She was a local celebrity.
"I'd joke about her being the oldest woman in Scotland and she'd find it amusing.
"I'd speak to her on a daily basis.
"She was a joy to chat to and she was still very sharp. She lived alone until about a month ago, which is amazing considering her age.
"The pneumonia was very quick and she passed away on Monday. It's a real shame."
In an interview with the Press and Journal, to celebrate her 106th birthday, she credited  her favourite beverage for her longevity.
Growing up, her family owned the Pheasant Inn in Wiltshire, and she recalling consuming prodigious amounts of lemonade.
She said: "I don't really know what keeps me going – because I don't really do anything special.
"But I drank gallons of lemonade as a kid, so that might have done it.
"My family had a bar called the Pheasant Inn and we could always help ourselves to the stuff and I would take loads of it.
"That must be it."
In the same interview she encouraged older people to "keep themselves bright."
She said: "I can keep talking and keep myself bright – and you've got to keep yourself bright.
"You can be old, but you don't have to act old."