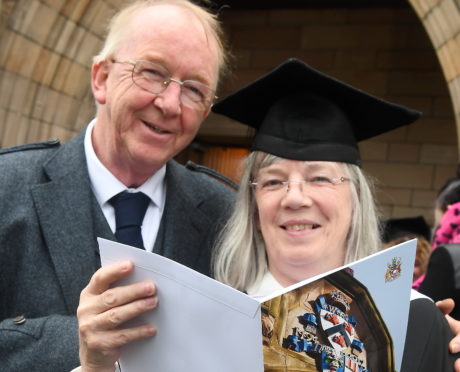 Jean Souter, from Tarland, graduated yesterday with a masters in Theology and Christian Studies.
It was a long road to embarking on her degree – but she maintains that people are"never too old to learn."
Mrs Souter left Ruthrieston Seconday School at age 15  after failing her 11+ exams.
Despite that disappointment, she was always keen to get back into education, but faced several setbacks along the way.
Mrs Souter had planned start a university course in the 1990s, only for her husband David to be seriously injured in a road roller accident in Banchory in 1995.
To add to the couple's stress, he was later diagnosed with cancer.
Mrs Souter finally began her undergraduate degree at 59-years-old, when her husband  returned to work after being given the "all clear".
Dedicated to the "amazing course", she would get up at 5.30am every day to travel from Tarland in Aberdeenshire to the campus – a daily commute of around four hours.
After an undergraduate course, the proud grandmother then embarked on a two-year part-time course in Theology and Christian Studies.
She said: "I was really terrified when I first came back to education, but everyone – students and lecturers – were wonderful.
"The course was so interesting and I was like a sponge taking it all in.
"You're never too old to do it.
"I got very close with people and the students treated me like a mother. It was a really close knit group."
Yesterday she graduated as her husband, sister and son looked-on.
Currently on placement at Aberdeen Cathedral, Mrs Souter hopes to become a Deacon in the Scottish Episcopal Church, working for Bishop Anne Dyer.