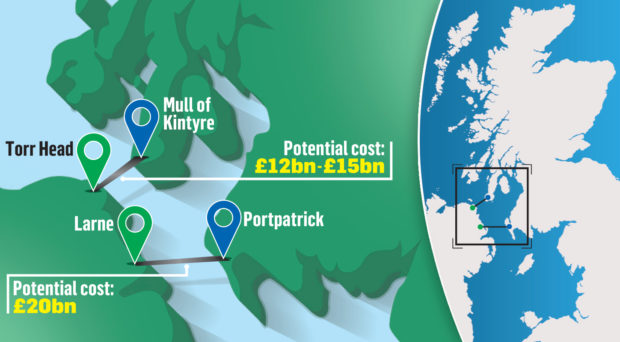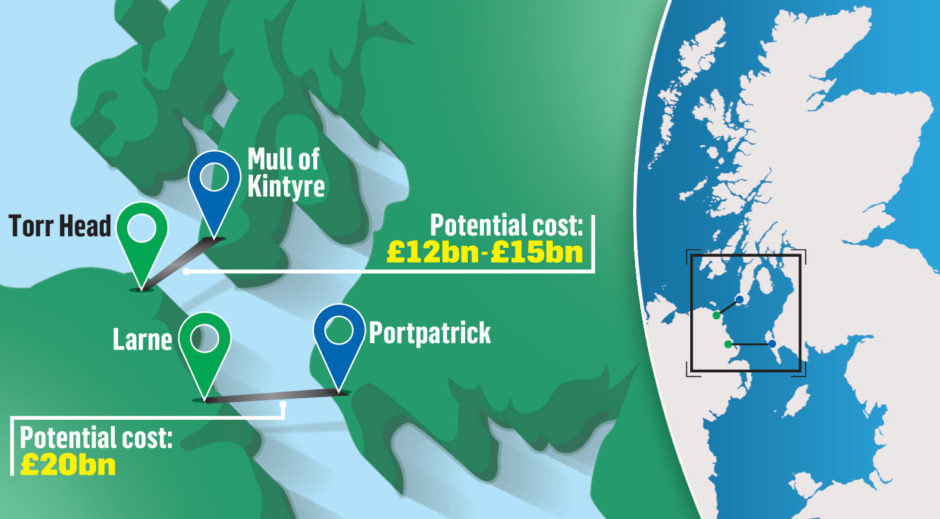 A stunning vision for multi-billion-pound bridges between Scotland and Northern Ireland has received the backing of some of the UK's top politicians.
Plans for combined road and rail crossings have been drawn-up by Alan Dunlop, professor of architecture at Robert Gordon and Liverpool universities.
The respected academic believes such a bridge could offer a massive economic boost to both countries and help re-balance the British economy away from the south of England.
That belief is shared by key figures, including the DUP's Arlene Foster, while the Northern Ireland Secretary has said she is open to the idea of a feasibility study.
It could also play a key role in driving trade and tourism in the wake of a successful Brexit deal.

Professor Dunlop has produced separate plans for crossings from Larne to Portpatrick, costing around £20 billion, or a bridge the Mull of Kintyrne and Torr Head – potentially costing between £12 billion and £15 billion.
---
>> Keep up to date with the latest news with The P&J newsletter
---
The idea originally came from a speech made by former Foreign Secretary Boris Johnson in January in which he floated the idea of a 22-mile bridge across the English Channel to France.
Professor Dunlop was then asked to produce plans for a potential bridge between Northern Ireland and Scotland.
His designs have the backing of major political figures including Mr Johnson, Scottish Brexit secretary Mike Russell and Arlene Foster of the Democratic Unionist Party  in the Province.
Karen Bradley, the Northern Ireland secretary, was asked if she would consider launching a feasibility study into the project by the DUP MP Ian Paisley.
She indicated she would be open to the idea adding: "Anyone who has visited the Causeway coast will always be struck by just how close Scotland is to Northern Ireland."
Professor Dunlop said that while there were challenges, his vision for Celtic Bridge offered opportunities that must be grasped.
He said: "A road and rail crossing from Larne to Portpatrick is architecturally possible and would boost tourism and trade for both sides of the crossing, while providing an extra needed physical link after Brexit.
"A major challenge that would need to be overcome is Beaufort's Dyke: a deep-sea trench around 300m deep which runs parallel to the Dumfries and Galloway coastline and was used as a dumping ground for explosives after the end of the Second World War.
"However, a possible solution has been pioneered in Norway, using the concept of floating bridges, to overcome the depth and non-contact with the sea bed.
"Another possible route for the bridge is between the Mull of Kintyre and Torr Head on the Antrim Coast, which are just over 12 miles apart.
"The political failure to grasp this opportunity would indicate a lack of vision and authentic leadership.
"A Celtic Bridge will re-balance the over concentration of power in the south of England and could bring extraordinary benefit to many areas. "
---
While the bridges plan between Scotland and Northern Ireland would certainly be ambitious, it is not the first such project to hit the headlines in recent months.
Boris Johnson mooted the idea of a bridge crossing the English Channel while still the foreign secretary.
The suggestion came as it was announced that Britain and France were setting up a panel of experts to look at joint infrastructure projects.
But Downing Street appeared to pour cold water on the idea, and it was also criticised by maritime chiefs.
Last night, Mr Dunlop said it would be "cheaper to move France closer" than build a bridge across the Channel.
He said a "conservative estimate" for building the structure would be £120billion.
The crossing would also have to navigate through the world's busiest shipping lanes used by more than 500 vessels a day.
At the time,  Jonathan Roberts, of the UK Chamber of Shipping, said: "A huge bridge across the Channel would pose considerable difficulties for safe navigation. Ninety five per cent of the UK's international trade is moved by sea, so we need to make shipping operations easier, not harder."
A bridge across the English Channel was first proposed in 1981 as an alternative to the Channel Tunnel project.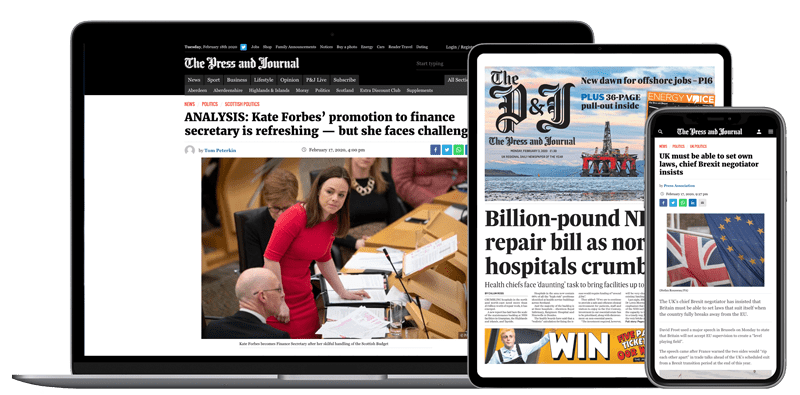 Help support quality local journalism … become a digital subscriber to The Press and Journal
For as little as £5.99 a month you can access all of our content, including Premium articles.
Subscribe