High winds and torrential downpours have been forecast across Scotland this week as the country braces itself for Storm Diana.
The Met Office has issued yellow weather warnings for Wednesday and Thursday.
Those travelling by road, rail, air and ferry have been told to prepare for major delays as winds of up to 70mph and three inches of rain have been predicted in certain areas.
The storm, named by the Portuguese Meteorological Authority, is expected to hit the Azores today before it starts to impact Britain tomorrow.
Severe gales and rain have been forecast throughout Scotland, though the weather warnings are only in place for Aberdeen, Aberdeenshire, Moray, the far north of the Highlands, Orkney and Shetland.
Further south, warnings have also been issued across Northern Ireland and the west coast of England tomorrow.
Those living close to coastlines across the north-east, Highlands and Islands have been told to expect some of the worst of the weather.
Wind speeds of up to 33mph have been forecast by the Met Office in Peterhead, and around 34mph in Wick.
In Banff, gusts could reach speeds of up to 28mph during the windiest periods, and as high as 37mph in southern parts of the Western Isles.
And those living in Lerwick have been advised to prepare for 38mph winds.
A Met Office spokesman said last night: "Rain will become persistent and heavy at times across parts of north-eastern Scotland on Wednesday afternoon and evening.
"Accumulations of up to 50mm (1.9 inches) are likely on high ground. This will come on top of rainfall on Tuesday and melting snow."
The spokesman said some parts of the UK will be hit by even more severe winds, and the gales could result in large waves for those living close to the sea.
Some areas of Scotland have also been warned of the possibility of short term power loss due to the weather.
He added: "Wind gusts of 60mph are expected with a few more exposed locations seeing 70mph gusts.
"The strong winds will also bring some rough seas and large waves, with some coastal impacts possible."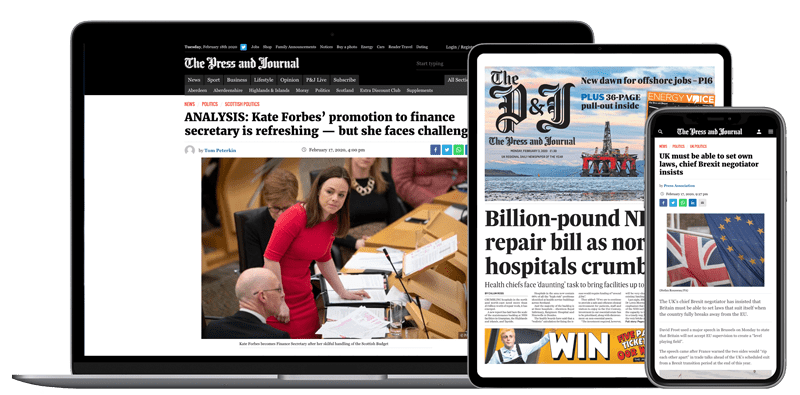 Help support quality local journalism … become a digital subscriber to The Press and Journal
For as little as £5.99 a month you can access all of our content, including Premium articles.
Subscribe