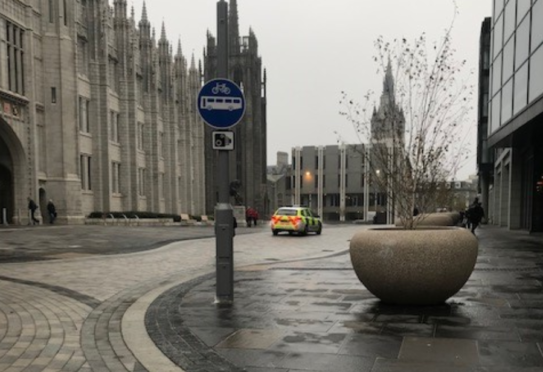 More than 800 police cars have been caught going through a bus gate in three months – prompting concerns it is being used as a shortcut to its HQ.
Since the controversial "shared space" road layout opened on Broad Street in Aberdeen in August, 2,611 fines worth £156,000 have been issued to civilians.
But no fines have been issued to Police Scotland, who are exempt from the rules only when on an urgent call-out.
Last night however, a spokeswoman could not confirm whether all 820 incidents caught on camera were emergency situations.
Disabled campaigners were horrified to hear the statistics, and raised concerns that "fast-responding vehicles" could present further dangers to those who are blind or visually-impaired.
---
>> Keep up to date with the latest news with The P&J newsletter
---
And Councillor Steve Delaney said it was important the road is not used as a through-route for police heading to Queen Street station, or by local residents.
"Clearly we have to bear in mind that when there are urgent emergency situations, police officers driving down Broad Street is perfectly acceptable," he said.
"But outwith those situations, it should certainly not be used as a through route either by the police, or in fact by local residents."
Aberdeen City Council has had discussions with Police Scotland about use of the route, and said they were "clear" on the exemptions for Broad Street.
The road reopened to the public this summer following a £3.2million refurbishment to transform it into a "shared space", with little to no height difference between its pavements and kerbs, and without typical road markings.
A spokesman for the RNIB said the shared space being used by emergency services presented issues for those living with sight loss.
He said: "We remain concerned about the potentially serious hazards that shared spaces present to blind and partially-sighted people.
"If emergency public services are using the space, this means pedestrians are being forced to share with what might be fast-responding vehicles.
"If kerbs and pavements had been retained, this wouldn't be a problem."
According to figures obtained under freedom of information rules, 820 vehicles with police livery have been recorded going through the gate between August 17 and November 4 – around 10 a day.
Workers in the Broad Street area could not recall hearing sirens or seeing blue lights 10 times a day.
Our picture was taken in the morning of November 6 heading along Broad Street towards police headquarters on Queen Street. The blue lights and sirens were not on, however in some cases officers do not turn on these measures when dealing with an emergency – for example, when dealing with a passenger sensitive to loud noise or bright lights.
Chief Inspector Martin Mackay said: "As highlighted in the freedom of information response, North East Division has received no fines for driving through the bus gate at Broad Street since it went live.
"We have also not been made aware of any concerns regarding our use of the route.
"Broad Street is a vital route from our adjacent Queen Street HQ to allow us to respond to calls in other areas of the north-east in emergency situations and we will continue to use it safely when required.
"All police officers are aware of using Broad Street for emergencies but we also have a responsibility to police the area, given that it now makes up a significant part of our city centre with numerous licensed premises in the vicinity and the council HQ.
"In relation to the photographed vehicle we have been unable to provide specific details about the nature of the call attended as we have not been provided with enough detail to identify the car involved.
"There are numerous definitions of what constitutes an emergency and just because a police vehicle does not have flashing blue lights on or a siren, does not mean it is not involved in one."
He said that the force had consulted with the local authority during the implementation of the bus gate to ensure exemptions would be made in case of an emergency.
An Aberdeen City Council spokeswoman said: "The traffic order for Broad Street bus and cycle section does not apply to a vehicle being used for police, ambulance or fire and rescue purposes when responding to an emergency.
"The order states that the area should only be crossed by these vehicles in emergency situations."