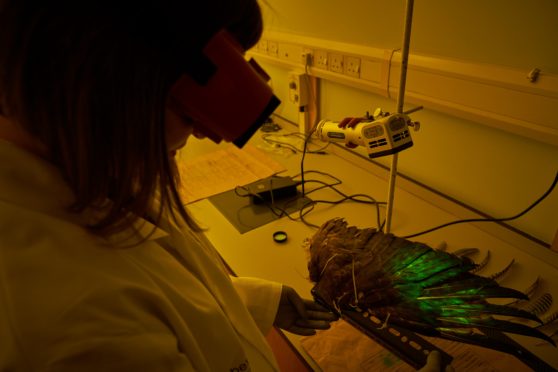 New technology which enables scientists to obtain fingerprints from feathers could lead to a crackdown on wildlife crime.
A study conducted by Abertay University has discovered that prints can be recovered from feathers even after they have been left outside and exposed to the elements.
In the long term, it is hoped the research will have a "transformative" impact on the number of wildlife crime convictions in the UK.
According to the latest RSPB Birdcrime report there were 68 raptors killed by human hand last year – but only four cases led to people being prosecuted and just one resulted in a conviction.
Aberdeenshire police launched an investigation into the death of a goshawk, a rare bird of prey, last month after finding that the bird was shot "at close range".
The bird's remains are thought to have been dumped in the North Esk river near St Cyrus.
And earlier this month it emerged that four satellite-tagged hen harriers disappeared in "suspicious circumstances" within a 10-week spell.
Police said the investigation would focus on grouse moors at four locations in Aberdeenshire, Perthshire and the Highlands.
PhD Student, Helen McMorris, believes the techniques which she has helped pioneer at Abertay University in Dundee could help police ensure that those who perpetrate such crimes face justice.
She said: "At this moment in time, toxicology tests can prove that a raptor has been poisoned and you can prove that a bird has been shot through x-rays and post-mortem examinations.
"But there's no way of telling if a human has had any contact with that bird if it's found dead in a field or on a hillside.
"You have to assume there has been foul play of some description, but you can't hone in on the actual person responsible.
"This new technique potentially gives investigators the chance to prove actual human involvement in raptor persecution, be it through an identifiable fingerprint or a touch mark from a human finger that identifies exact areas of contact on the bird-of-prey."
The university had previously found that fingerprints could be obtained from feathers under lab conditions.
But it is only now that Ms McMorris has proved it is possible to recover them from feathers that have been exposed to wind and rain.
The university's Head of Science, Dr Ben Jones, said: "As part of Abertay's research in improving forensic investigation techniques, this study is an important step in moving from the laboratory closer to a real-life situation."