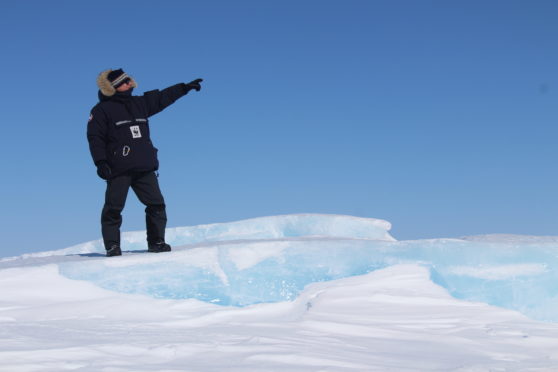 An internationally renowned polar bear expert will speak to an Aberdeen audience next week about the first time he came face to face with the fearsome, endangered predators.
Rod Downie, chief polar advisor for the World Wide Fund for Nature (WWF), will visit Aberdeen University on Monday evening to discuss the iconic animals, how he works to protect and study them, and the grievous impact which climate change has had on their frozen, Arctic environments.
As one of the few scientists in recent years to have undertaken direct scientific field research on the sub-zero carnivores, Mr Downie will share his intimate experiences with the bears with his audience as part of a Royal Scottish Geographical Society (RSGS) "Inspiring People" lecture series.
During his six years in the Arctic, Mr Downie – originally from Galloway – carried out dangerous work such as taking skin biopsies from angry polar bears, extracting DNA from their footprints, and even using airborne infrared technology to photograph the animals and create a census of local populations.
Mr Downie said: "Any work with polar bears is very challenging, primarily because they are such powerful predators. There have been a number of fatalities related to polar bears in the Arctic this year.
"An average polar bear weighs as much as seven times as me, it has rows of 42 razor-sharp teeth, and over a 100-metre (328 feet) distance they can sprint faster than Usain Bolt, so you need to be constantly alert and have mechanisms in place to make sure you can deter them if they do become aggressive.
"Back in 2015, I was very privileged to be invited by the government of Nunavut in northern Canada to undertake a population census of one of the 19 sub-populations of polar bears.
"We did this through a very innovative mechanism called genetic mark recapture, which essentially involves flying in grids by helicopter and, whenever we saw a polar bear, we would take a skin biopsy using a small, specially designed dart.
"We shot the darts into the polar bear's haunch, they are designed to then fall off the polar bear and land on the ice – we then retrieve the dart and take the small skin samples, which are then sent off for DNA analysis, allowing us to find the unique genetic fingerprint of that particular bear.
"It's a bit like going to the doctor for a skin biopsy, except we use a high-powered rifle instead of a needle, and a helicopter instead of a surgery."
Tickets for the event, at Aberdeen University's New King's at 7.30pm on Monday, can be bought at the door or online for £10, with a discount for Tiso Outdoor cardholders and free entry for RSGS members, students and under 18s.
To find out more visit www.rsgs.org/events