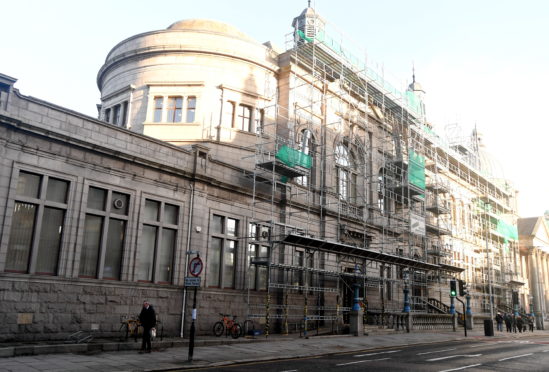 The scaffolding that has masked a historic Aberdeen building for the past 18 months is finally being torn down.
Last year "extensive" problems were discovered on the roof of Central Library on Rosemount Viaduct.
A steeplejack scaling the heights of the building, which first opened in 1892, found water damage and a number of loose parapet coping stones.
Emergency repairs took place to remove the dodgy masonry, while a longer-term project to fix the leaks began.
Aberdeen Central Library repairs delayed due to 'bad weather'
While this was initially scheduled for completion by July, several spells of bad weather pushed the fishing date back several times.
But yesterday workers finally began dismantling the scaffolding, signalling the end of the £100,000 repairs.
An Aberdeen City Council spokesman said: "The refurbishment work at Central Library has been completed as part of the council's ongoing commitment to investment in the city's iconic historic buildings.
"The removal of the scaffolding, which is weather dependent, is continuing."