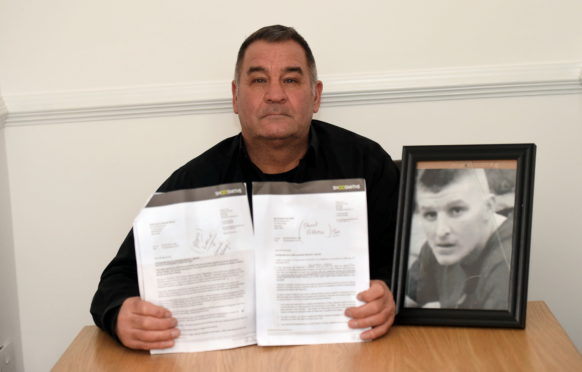 An Aberdeen dad told to stay away from the holiday park where his son died has threatened to stage a protest there on December 25.
Neil McLennan's son, Jamie, died three years ago in a fire at the Piperdam park in Dundee when he was 26.
Since then, Mr McLennan has made regular trips to the spot to lay tributes and "have a quiet chat" with his departed boy.
But the 61-year-old has been told not to visit this Christmas, in case the reminder of the tragedy "upsets other guests".
And he has been given the ultimatum of only visiting during set times, under escort, in the future or risk being prohibited from entering altogether.
---
>> Keep up to date with the latest news with The P&J newsletter
---
Last night, the Kincorth resident said he was considering taking drastic action if the sanction is not lifted – by bringing a busload of 55 people to the resort to protest the decision on Christmas Day.
Mr McLennan said: "This has been a way for me to feel close to Jamie, and it bothered nobody, but now I've been told I am not welcome.
"Over the years many people have asked to join me but I have chosen just to leave flowers there on their behalf.
"Now I am seriously considering coming down with a busload of 55 friends and family for a peaceful protest on Christmas Day, with banners to let people know what's happened."
Jamie McLennan died on September 25, 2015, after a fire broke out in the luxury lodge where he was staying.
His grieving father has since gone to visit the spot on the anniversary of the blaze, on his son's birthday and on Christmas Day.
But following his visit in September, Piperdam removed the flowers, sweets and bottle of beer left in tribute less than an hour after Mr McLennan had lovingly placed them at the scene.
The father-of-five only found out they had been taken because another relative visited shortly afterwards and informed him.
When Mr McLennan asked for an explanation, he was accused of being "threatening" towards staff and sent a legal letter telling him he could only visit when guests were not there – and never again at Christmas.
He added: "I've been told I can only visit during set hours on a Monday or a Friday, and only with two other people.
"That means I would have to pick just two of my other four children."
Coppergreen Developments said: "We tried to make suitable arrangements that balance his sensitive interests with the interests of guests.
"We remain willing to continue private discussions with Mr McLennan."
The unknown
Jamie McLennan's family have been faced with years of uncertainty following his death in a fire at the Piperdam Golf and Leisure Resort.
The 26-year-old's body was found in the lodge the day after the blaze broke out in September, 2015.
It was two weeks before he could be formally identified.
Forensic officers spent days removing evidence in the aftermath of the fire, but were unable to determine what sparked the fire or whether it was started deliberately.
Thorough investigations were performed by the Scottish Fatalities Investigation Unit, which is run by the Crown Office.
But last January, the Crown announced that no criminal charges would be brought and that the probe had concluded.
Concerns were initially raised about Mr McLennan when he went missing on the same day the huge fire broke out.
He was last seen at 3.30am that day getting into a taxi near the Grosvenor Casino in Dundee city centre.
At the time, he was thought to have headed to Piperdam, where he was staying with a friend.
At about 7.30am, three fire crews were dispatched to the resort to tackle a "well alight" lodge building.
Three hours later fire crews were still trying to dampen down the area.