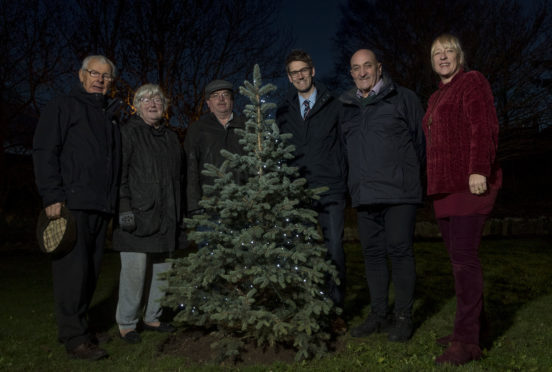 Bucksburn has received some extra festive cheer with the addition of a community Christmas tree.
Planted on the Old Meldrum Road by the Brighter Bucksburn group and property company Dandara, the tree will be used for Christmas decorations in years to come.
Members of the community group officially switched on the tree on Monday night, alongside Dandara's director of sales in Aberdeen, Peter Best.
Brighter Bucksburn was set up by Bucksburn and Newhills Community Council to oversee improvements to the local area.
In 2017, the group achieved a Beautiful Scotland silver award for its efforts.
Lesley Glasser from Brighter Bucksburn said: "As an experiment last year, the group planted a small tree on Old Meldrum Road and decorated it with lights.
"It proved so popular we expanded the idea this year and thanks to Dandara's help, we purchased a much bigger tree which looks fantastic."
Mr Best added: "We are proud to support the communities in which we work and were more than happy to join Brighter Bucksburn's campaign."