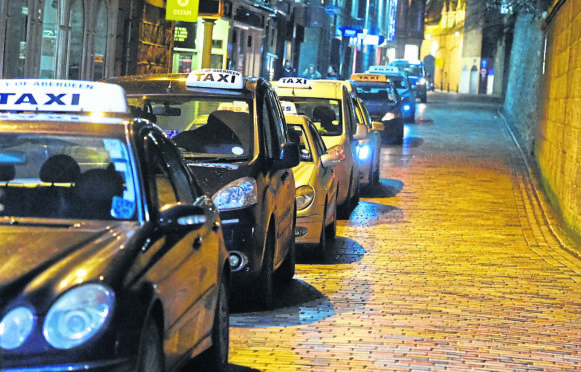 Hundreds of taxis are being banned from the roads every year for failing routine council safety checks.
In some parts of the north of Scotland, as many as 40% of the vehicles tested have been pulled from service until they have undergone repair work.
Yet a large discrepancy has emerged as the figures, obtained by The Press and Journal, have revealed that pass rates of 100% have been recorded in other locations.
The Driver and Vehicle Standards Agency (DVSA) stipulates that taxis and other private hire vehicles must be subjected to more rigorous testing than other vehicles, meaning that a car could pass an MOT but still fail a council check.
However, the ways in which these tests are conducted vary between local authorities.
For example, Aberdeen City Council will pull vehicles off the road immediately for failing to meet certain criteria, ranging from mechanical issues to customer-facing concerns such as incorrect meter clocks or broken taxi signs.
Meanwhile Highland Council uses a penalty points system operated by its trading standards team, with more points leading to more frequent inspections and even licences being revoked.
---
>> Keep up to date with the latest news with The P&J newsletter
---
As a result, road safety campaigners have called for more consistency between local authorities, resulting in a fairer system for taxi drivers in the process.
Neil Greig, director of policy and search at road safety charity IAM RoadSmart, said: "Very few councils insist on driver training or even customer care knowledge when they issue a licence."
"Councils and taxi firms must realise that if they can make their customers feel safe, comfortable and wanted, they will come back time and time again."
He added: "We support the highest possible standards of training and vehicle safety for taxi drivers.
"Anyone applying for hire should expect to be closely scrutinised."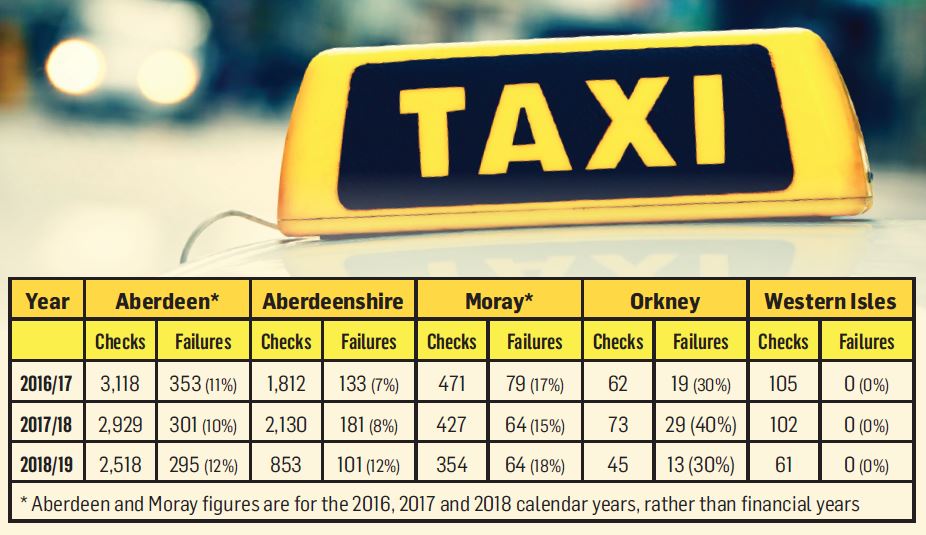 An Aberdeen City Council spokesman said the rigorous local authority tests carried out across the country are designed to ensure each vehicle is safe for use.
He said: "The council, as the licensing authority, has a duty in relation to public safety and to the convenience and travelling needs of the public – therefore vehicles are required to meet a higher standard than those set down in the separate MOT test.
"All operators and drivers have access to a comprehensive taxi testing manual which has been created by the council to support the preparation of each vehicle for testing."
Aberdeenshire Council said its fluctuations in pass rate were likely down to circumstance, as there have been no changes to how it checks taxis or what staff look for in recent years.
Penalty points
Since 2006, Highland Council has operated a somewhat unusual penalty points system to ensure the safety of its taxis and public hire vehicles.
During each examination, the local authority's trading standards team will assign points based on failures to meet certain criteria relating to safety, documentation and driver behaviour.
As a driver acquires more points, they will be subject to more frequent inspections.
The council says that this promotes self-regulation and also stops resources from being wasted chasing taxi owners with faulty vehicles.
Once someone acquires 10 points they will be given a written warning, while reaching 20 points within two years will mean they are reported to a licencing committee or manager and formal action to remove their licence could take place.
Points are awarded for a multitude of reasons. For example, high-risk or obvious tyre faults warrant seven points, while a missing ID card earns a driver five.
Three points will be awarded for a missing or broken taxi sign, and sanctions can also be issued under the categories of external and internal cleanliness, licensee behaviour and driver's appearance.
Trading standards team leader Mark McGinty said: "Should too many points be accumulated we report the matter to the licensing committee alleging the licence conditions are not being met, this may result in an a licence being revoked, or more commonly an increased inspection frequency is given.
"Over time we feel this keeps standards high but gives licence holders ample opportunity to correct the things they have failed on and to put something in place to prevent them failing again."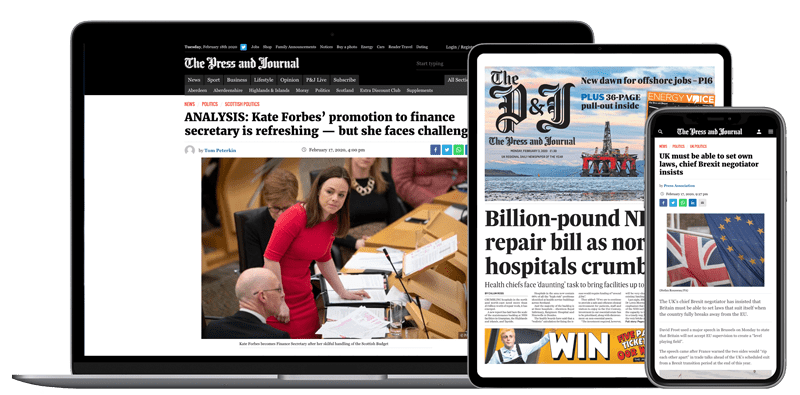 Help support quality local journalism … become a digital subscriber to The Press and Journal
For as little as £5.99 a month you can access all of our content, including Premium articles.
Subscribe