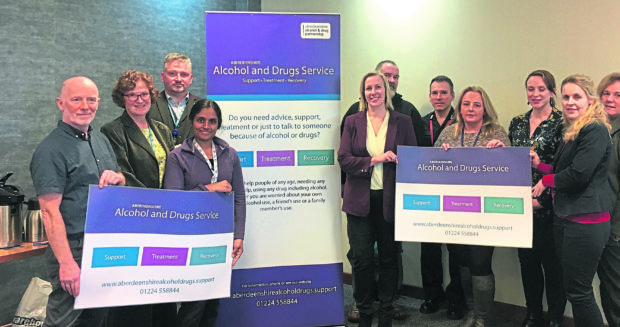 A new website has been launched to help support people affected by drug and alcohol addiction in Aberdeenshire.
The Aberdeenshire Alcohol and Drug Partnership (ADP) provides information about a range of support services across the region and Scotland.
It has been created for people currently struggling with addiction as well as family members, friends or partners to use.
Luan Grugeon, Aberdeenshire ADP chairwoman, hopes the site will help raise awareness and improve lives.
She said: "The new site was created so that people in the region can access essential information in as easy a way as possible, as well as for anyone worried about a loved one to seek help.
"We hosted focus groups across Aberdeenshire with people who have both recovered from their alcohol addiction and from those who are on the road to recovery.
"The participants shared their views and opinions on every step on the process, and the result is the website which we have launched this week.
"We wanted to be easily accessible, as some people don't always have the confidence to physically go to a doctor or service in person.
"The website simplifies information for people who may be going through stressful and isolating times, and its contents will only grow as more and more groups work to curb alcohol and drug addiction in the north-east."
Michael Riley, senior community learning and development worker, added: "This was a great project to be involved with and having the input of service users was really important.
"The tips and insight we got from them was invaluable in making sure that we have the right information in an easy to use resource."
In yesterday's Press and Journal it was revealed that alcohol addiction costs about £120million a year in Aberdeen alone.
The sum was calculated on the costs of extra policing to deal with drunken behaviour over the festive period as well as health and social care costs.
There were 57 drug related deaths in the city and 33 which could be "directly attributed to alcohol."
City integration joint board vice-chairwoman Sarah Duncan stressed the importance of looking at the whole picture when treating addiction.
She said: "We need to have a proper discussion as a society about the ready availability of alcohol and social attitudes towards excessive alcohol consumption; attitudes towards alcohol can change, as the anti-drink driving campaigns show.
"But there is a long way to go before the majority of people realise the health and social harm that alcohol dependency does, and recognise that it is a health issue which needs treatment, not shaming."
Aberdeenshire ADP is made up of representatives from the council, NHS Grampian, Police Scotland and Aberdeenshire Voluntary Action.
Other support groups or services that want to be included on Aberdeenshire ADP's new website can e-mail Aberdeenshire.adp@nhs.net