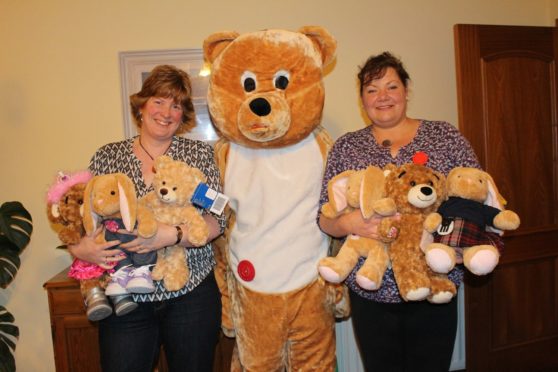 A project which makes special teddy bears for children who have undergone complex surgery has donated its 2,000th cuddly toy.
The Buttony Bear project, based in Ballater, was established in May 2015 to give children with stomas a furry friend just like them, to help them feel less lonely.
The small artificial openings, made for medical reasons, can often prove to be traumatic for children who undergo the surgery.
The bears have been designed with their own stomas – buttons stitched to their bellies – to mimic the tummies of their owners and provide them comfort.
North-east youngsters receive special bears to help them feel less alone
Jenny Gow, project director of the Bear Named Buttony project, said she was delighted the initiative has been so well received not just in Scotland, but across the world – the cuddly toys have been sent as far away as New Zealand, Australia and Canada.
The team started the scheme after seeing how a similar bear helped Mrs Gow's own daughter Eilidh, who has a congenital bowel condition and received stoma surgery when she was young.
---
>> Keep up to date with the latest news with The P&J newsletter
---
Mrs Gow said: "They've made such a big difference to so many children, we've received so much feedback over the years from families who tell us the bears help their kids feel less alone, and less isolated by their illnesses.
"They can use the bears to explain to other children what's happened to them, and why they have their own stomas.
"My daughter Eilidh, who has just turned 21, had her own buttony bear when she was little, and she's become sort of an ambassador for the project – she helps us write the cards, make videos and lots more.
"When Eilidh was small, there really wasn't that much support for children with stomas, so when she received a little bear with a button stitched to its tummy,  it really made a big difference.
"The project started to support children like her, and since we started we have now given away more than 2,000 of them, it really is amazing, and it keeps us very busy – we probably send away about 40 a month."