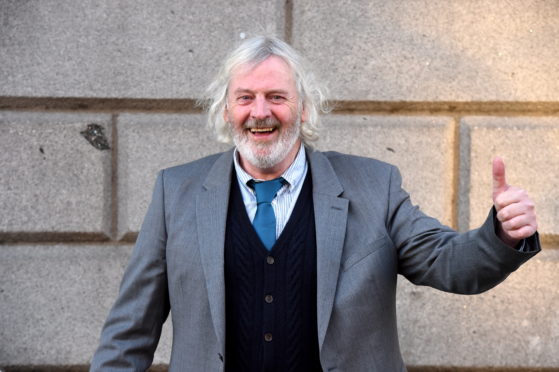 A man has been found guilty of attempting to kill his daughter's ex-boyfriend by brutally striking him with an axe on a street in Aberdeen.
John Quantrell targeted Christopher Willett outside his workplace of Trojan Crates on Mansfield Road and Sinclair Road in Torry.
He approached the vehicle he was in, smashed the window with an axe and launched multiple blows on his victim.
The 65-year-old had been on trial at the High Court in Aberdeen accused of attempted murder.
During the four days of evidence the jury heard from Mr Willett who said he sustained four blows to his head, body, legs and arms while inside the vehicle and entered "survival mode" and said he thought he would die if he remained inside the vehicle.
He said he got out and engaged with his attacker and after removing his scarf could see it was Quantrell.
Giving evidence Quantrell had claimed he was the one first struck with an axe while he lay on the ground.
But the jury of eight men and seven women, after more than four hours of deliberation, found him guilty.
The 65-year-old showed no reaction in court as the verdict was read out but multiple members of his family were reduced to tears.
Quantrell was also accused of driving a car into Mr Willett, forcing him to fly into the air and rendering him unconscious.
While it was accepted he was not the driver prosecutors alleged it was part of a planned attack and so he was responsible.
This element of the charge however was dropped by jurors.
Following the outcome, Lord Clark said: "By the verdict of the jury you have been convicted of an extremely brutal attack with an axe."
He deferred sentence to obtain reports and remanded Quantrell, of Regensburg Court in Aberdeen, in custody.
He will be sentenced next month at the high court in Edinburgh.