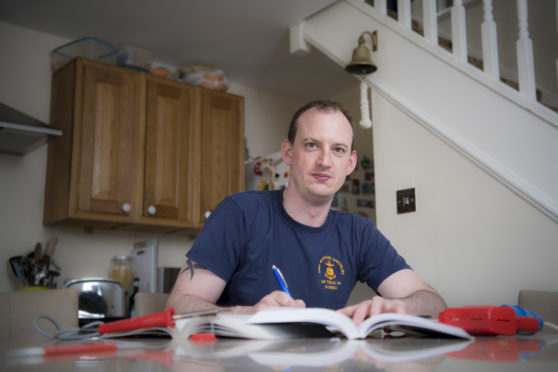 Life after the armed forces can provide a huge shock to the system for many former personnel.
Large numbers say they struggle with the transition back to civilian life and the vastly different routines and responsibilities that lie therein.
But for Christian Dobson, charity SSAFA was on hand to provide him with vital support – for which he says he will always be "eternally grateful".
The Press and Journal's Force for Good campaign aims to highlight the work of such organisations, while raising awareness of struggles faced by services personnel.
Mr Dobson, 34, had trained and served in the Royal Navy for nearly a decade as a mine warfare specialist.
But after a transfer request to focus on photography was denied, he decided to return to further education and hand in his one year's notice.
Back in Aberdeen he now works for an engineering company and is studying for a BSc at the Robert Gordon University, but admits it was hard to adjust to life on "civvy street".
"In the forces you know when to eat, when to sleep and when you're going on holiday," he said.
"Then all of a sudden you leave and it's like all these rugs being pulled out from under you.
"The first 18 months of civilian life were very difficult at times. I missed being part of the Navy every single day."
Just as Mr Dobson was leaving the armed forces, his father died.
He said: "Grieving for my father and without a structured resettlement package, I didn't know what I wanted to do.
"I was ready and able to work and felt I had so much to offer but couldn't seem to find a direction for a future career.
Soon after he secured a career within the oil and gas industry – largely due to his experience with remotely operated vehicles (ROVs), which the Navy uses for underwater mine clearance.
Mr Dobson said: "I was now focused on starting my resettlement, but I was going to be unemployed until my job start date in six weeks."
During this time he attended a four-week course in health and safety but, because of this, it meant he couldn't work or claim jobseekers' allowance.
So he turned to SSAFA – formerly called The Soldiers, Sailors, Airmen and Families Association – which offered him financial assistance to help him through.
"After having been a professional so long, I was reluctant to ask for financial help but at the time I felt I had no other option," he said.
And despite his initial reservations, Mr Dobson said the charity went above and beyond and made sure he stayed on his feet while he found work.
He is now encouraging others in a similar position to turn to the organisation and receive the support they need and deserve.
Mr Dobson said: "If people need help then they should speak to SSAFA.
"They helped me with my car payments, mortgage and insurance. I wasn't looking for 100% of my costs and it didn't feel like a hand out.
"I will be eternally grateful for them helping me through this."
SSAFA has volunteers ready and willing to help at branches across the north of Scotland.