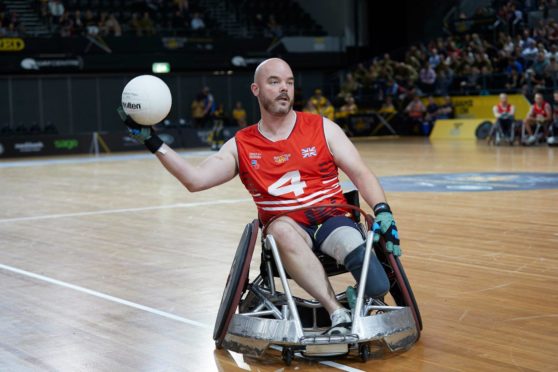 When Michael Mellon was medically discharged from the military after having his leg amputated he "thought his life was over".
The Aberdeen-born former senior aircraftsman feared that his twin passions in life – sport and the RAF – would fall out of reach after undergoing the procedure following a rugby injury.
Now though, after receiving support from forces charity Help For Heroes, Mr Mellon is on a mission to prove that disability is no barrier to leading an active life.
And on Thursday he will lead a march of veterans across the Forth Road Bridge as part of the charity's Walking Home for Christmas fundraising campaign.
Mr Mellon lived at RAF Lossiemouth and RAF Kinloss where his dad was based until he was eight and joined the air force just after his 17th birthday in 1997.
The father-of-three, however, then broke his left leg playing rugby for the RAF in 2001, and developed compartment syndrome in the limb – a painful condition that occurs when pressure within the muscles builds to dangerous levels.
He lived in constant pain despite undergoing 12 operations during the years that followed and eventually opted to have the lower part of the leg removed in 2013.
Mr Mellon was then medically discharged, falling into a spiral of depression as he struggled to adjust to life without the camaraderie of the forces.
The 38-year-old said the air force had been his "entire life" and described the hardship of adjusting to his new circumstances as he lost all confidence.
He said: "After becoming medically discharged I thought my life was over.
"Every day I just wished I was still in the RAF and with my friends.
"I've always been into my sport from an early age and loved playing all sports, representing my schools at rugby, football, cricket, javelin, discus, shotput, basketball, American football and tennis.
"When I was discharged in 2005 I went from being super-fit to being much less active due to my injury.
"I struggled with depression, piled on the weight and went up to 21 stone."
Though it was a difficult decision at the time, Mr Mellon says having his leg removed offered him a "fresh start" and saw him resolve to get fit again.
Help For Heroes has aided Mr Mellon on his road to recovery and he has gone on to win five medals in the Invictus Games – a competition for wounded, injured or sick armed services personnel and veterans.
He said: "Being selected for the Invictus Games has been huge for me. It was a life-changing event.
"I wanted to be a part of the team to help my confidence and feel the power of teamwork again.
"Having my leg amputated was the hardest call of my life but it worked out to be the right call."
He was selected to compete in the contest by Help For Heroes in 2017 and won a silver medal in sitting volleyball and a bronze in wheelchair basketball as part of the UK team that year.
The former RAF Lossiemouth airman went on to net a further hat-trick of medals – two silvers and a bronze – at this year's event in Sydney in October.
He triumphed in wheelchair basketball, wheelchair rugby and sitting volleyball.
Despite the successes, Mr Mellon said he continued to face challenges, but refuses to be downcast.
"I get phantom pains a few times a week and there are periods that I can't wear my prosthetic leg," he said.
"But I'm a lot more active and in less pain than before the amputation."