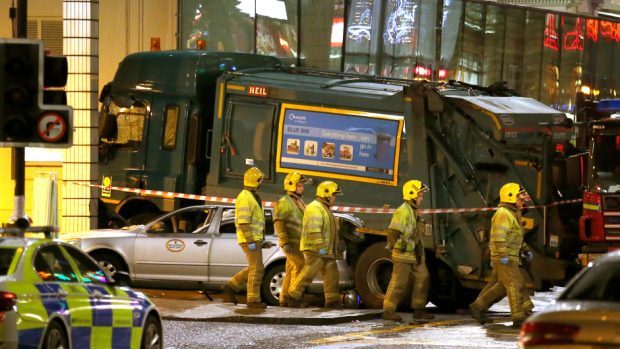 Just a quarter of bin lorries in the north of Scotland are equipped with the life-saving technology recommended in the wake of the Glasgow bin lorry crash.
Six people died and 15 were injured when lorry driver Harry Clarke lost consciousness behind the wheel and ploughed into a crowd of Christmas shoppers in Glasgow city centre four years ago.
The tragedy, which happened on December 22, 2014, prompted a fatal accident inquiry which resulted in a number of safety recommendations being made by Sheriff John Beckett QC.
One such recommendation issued to local councils and other organisations was to have advanced electronic braking systems (AEBS) fitted on large vehicles used for picking up refuse "wherever it is reasonably practicable to do so."
Sheriff Beckett also suggested authorities to explore the possibility of retrofitting the technology to their lorries without AEBs where possible.
But new information provided by Aberdeen, Aberdeenshire, Moray and Highland councils has shown that of the 267 bin lorries in operation in the four regions, just 67 of them are equipped with AEBS – around 25% of the total.
Last night, Banffshire and Buchan Coast MSP Stewart Stevenson said local councils should "do all they can to ensure lorries are safe to use".
---
>> Keep up to date with the latest news with The P&J newsletter
---
Although all four of the councils are ensuring AEBS is on new bin lorries, they have been unable to retrofit many of their vehicles in the fleet.
A statement from Moray Council – where just five of the authority's 35 bin lorries are fitted with AEBS – said the authority is following manufacturers' advice that fitting the technology to the older vehicles' complex wiring looms would invalidate the warranty, so have decided to "stick to manufacturer's systems".
Meanwhile Aberdeen City Council – where 23 of 59 lorries have the potentially life-saving technology installed – said that vehicles bought before November 2015 cannot be retrofitted "due to their design", but that replacement vehicles would be kitted out.
A Highland Council spokesman said that of the 109 bin lorries in operation across the region, 20 have AEBS and that although it can be fitted to the older trucks, it has come with all new trucks.
He added: "There are a further 10 refuse collection vehicles on order that will augment the numbers, next year we plan to order eight to nine more."
An Aberdeenshire council spokesman said: "We currently have 64 refuse vehicles in our fleet, of which 10 have been fitted with AEBS.
"We have consulted with the manufacturers and the system cannot be retrofitted to the older refuse vehicles. The requirement for AEBS will be specified in contracts as vehicles are replaced in the future."
Local MSP Mr Stevenson called for assurances that local authorities across Scotland are doing "all they can" to ensure lorries are safe to use.
He added: "The tragic events of December 22, 2014 is something that is very much fixed in the minds of people all over Scotland who shared in the express sadness for the victims and family and friends affected by what happened that day.
"The safety of vehicles is paramount and the local authorities should do all they can to ensure lorries are safe to use.
"It is important that we seek assurances that this is the case. Vehicles must meet the highest standards."
Aberdeen Liberal Democrat councillor Martin Greig said: "The lessons about safety cannot be clearer – it is essential to prevent accidents and collisions, there is no excuse for inaction."